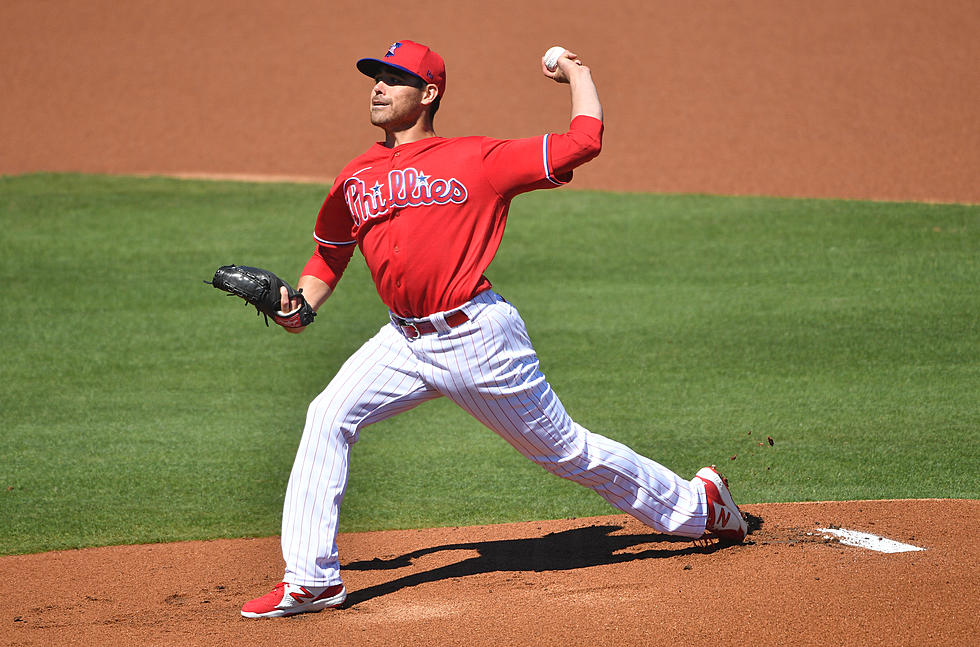 Back End of Phillies Rotation is an Issue with Few Options to Fix
Getty Images
Much has been made of the Phillies issues in center field, and while that is a legitimate issue, they currently have a bigger one at the back-end of the starting rotation.
So far during this infancy of this marathon of a season, when lefty Matt Moore or right-hander Chase Anderson pitch, things have been a disaster for Philadelphia.
After Sunday's debacle in Colorado, the Phillies are now 2-6 when the No. 4 or 5 man in the rotation toes the rubber.
Anderson allowed six runs on six hits with three walks and left the game, turning a bases loaded jam over to David Hale.  Hale served up a grand slam home run to Trevor Story in a seven-run inning.
Phillies manager Joe Girardi tried to take a more positive 'what if' approach about it on Sunday.
"If he (Anderson) gets the pitcher out, I think its a different game," Girardi explained.
Anderson and Moore were brought in to add some veteran arms to eat up innings at the back of the Phillies rotation.  However the duo has been disappointing thus far, combining to throw just 27.2 innings in seven games, giving up 33 hits, 17 walks, resulting in 25 runs scored.
On Friday, Vince Velasquez stepped in for Moore and allowed two runs on five hits and one walk with four strikeouts in four innings, but he is hardly the answer at the back of the rotation.
The team could turn to 24-year old Spencer Howard to fill one of the spots.  Howard has pitched three games in relief so far this season, throwing 4.1 innings with eight strikeouts, two walks and six hits. He has an 8.31 ERA and 1.85 WHIP, but most of that is from a rough outing on Sunday in Colorado.
Here is a list of some of the veteran arms that are still available:
Homer Bailey (35)
Zack Godley (31)
Cole Hamels (37)
Mike Leake (33)
Rick Porcello (32)
Jeff Samardzija (36)
Anibal Sanchez (37)
Of the arms on that list, the Phillies did kick the tires on Sanchez, who held a showcase for six teams on Friday.
MLB Network's Heyman said the Phillies were in attendance to watch Sanchez, who reportedly sat at 90 mph and touched 92 mph.
The 37-year-old right-hander had a 6.62 ERA in 11 starts with the Nationals last season.
Hamels is another popular name, who obviously has ties to the Phillies and said he intends to pitch this season, after tossing in just one game last season (3.1 innings) due to lingering shoulder and triceps issues.
He last pitched a full season with the Cubs in 2019, with a 3.81 ERA and 143 strikeouts in 141 2/3 innings in 27 starts.
The in-house options are limited as well, with 24-year old Adonis Medina a former top-pitching prospect, 21-year-old Fransicso Morales who is currently considered one of the top pitching prospects in the Phillies' organization, but probably not ready to make the jump from Lakewood in 2019 to the majors in 2021. Damon Jones is a 26-year old, who dominated at the A and AA levels in 2019, but struggled in eight games at AAA in 2019.
Phillies Major Award Winners Since 1980
More From 920 ESPN New Jersey