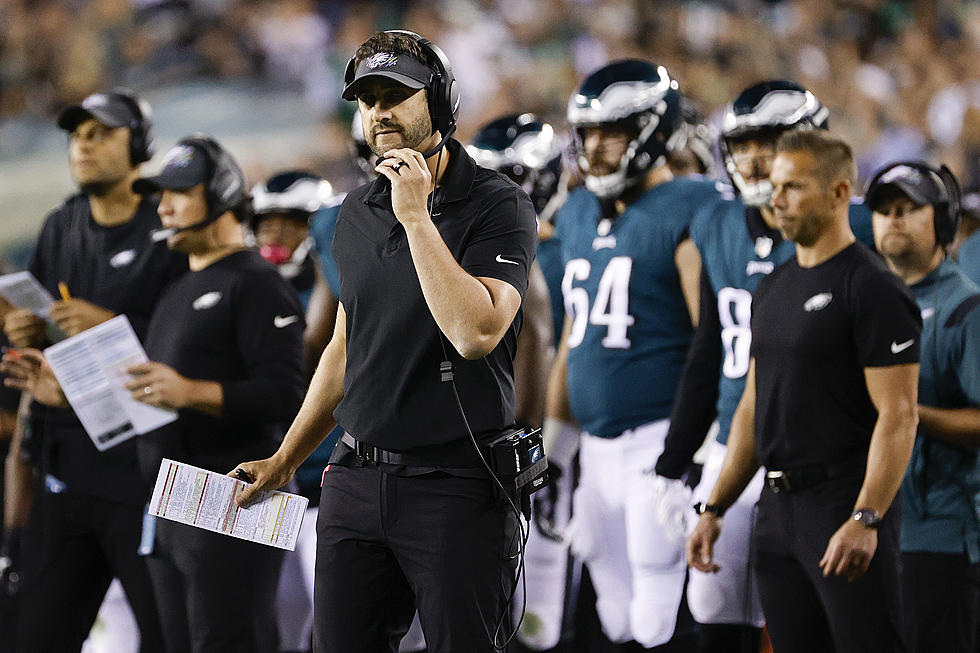 Dave Weinberg's Eagles Midseason Report Card
Getty Images
Nine games into a 17-game season, the Eagles are on pace to finish just about where oddsmakers predicted they'd be before the year began.
Most sports books listed the Eagles 2021 win/loss total at 6.5. At 3-6, it looks like they'll be close to that mark, probably at 6-11 or maybe 7-10 with a break or two.
Although they've shown some progress at times, they are not a very good football team. At least three more losses are looming against Denver (5-4), New Orleans (5-3) and Dallas (6-2), respectively. There are only three games against teams with a worse record: at the New York Jets (2-6) and a pair of meetings with Washington (2-6). There are also two games against the New York Giants (3-6).
I'll take the under.
Midseason grades
Quarterback: Jalen Hurts played his best game of the season in last Sunday's 27-24 loss to the Chargers. His acrobatic run that set up his game-tying touchdown pass to rookie wide receiver DeVonta Smith in the fourth quarter is one of the top top Eagles' offensive plays of the last decade. His 494 rushing yards are second-most among NFL quarterbacks, trailing only Baltimore's Lamar Jackson (600), and his tied for sixth overall with five rushing TDs. But his inconsistency as a passer remains a concern. Gardner Minshew is now the backup after Joe Flacco was traded to the Jets. GRADE: C-plus.
Running back: They have not had a 1,000-yard rusher since LeSean McCoy (1,309) in 2014 and that slump isn't going to end this season. Hurts is the Eagles' leading rusher. Miles Sanders has 300 yards, but is out indefinitely with an ankle injury. Jordan Howard has been a pleasant surprise after spending much of the season on the practice squad, rushing for 128 yards and three TDs in the last two games combined. Rookie Kenneth Gainwell has shown promise as a runner (150 yards) and receiver (19 catches) in a limited role. Boston Scott has been OK. GRADE: C-minus
Wide receiver/tight end: Smith, the Eagles' first-round draft pick, leads the team with 38 receptions for 537 yards and two touchdowns, but he's been plagued by dropped passes. Tight end Dallas Goedert appears poised to become Hurts' top weapon, especially now that Zach Ertz has been traded to Arizona. Quez Watskins is averaging a team-high 17 yards per catch, which ranks sixth in the NFL, but hasn't been much of a factor lately. Jalen Reagor has been a disappointment. Greg Ward has disappeared from the offense. Grade: C-minus.
Offensive line: Injuries and other issues have hit this group once again. Only center Jason Kelce has played every game. Right guard Brandon Brooks has missed the last seven games with a pectoral strain. Right tackle Lane Johnson sat out two games while dealing with anxiety and depression. Left tackle Jordan Mailata missed two games with a knee injury. That's forced guys like rookie Landon Dickerson, Andre Dillard, Jack Driscoll and Nate Herbig into action. They have only allowed 15 sacks, but Hurts is under constant pressure. GRADE: C.
Defensive line: The front four was supposed to be the strength of the defense, but that hasn't happened. Defensive coordinator Jonathan Gannon hasn't done them favors with his vanilla scheme. The Eagles have only 17 sacks this season after registering 28 in eight games in 2020. The loss of end Brandon Graham to a ruptured Achilles tendon was huge. Tackle Javon Hargrave leads the team with six sacks to go with 25 total pressures and 22 tackles. Tackle Fletcher Cox is no longer elite. End Josh Sweat has 3.5 sacks with two coming against the Lions. End Derek Barnett seems to commit at least one penalty a game. Ryan Kerrigan has been invisible. GRADE: C-minus.
Linebacker: Another subpar start for this group. Eric Wilson was so bad that he was cut last week. Alex Singleton leads the team with 48 tackles, but has struggled in pass coverage. T.J. Edwards has started to make an impact, as has Davion Taylor. GRADE: D.
Secondary: The Eagles are tied for 18th with six interceptions this season, including five by the secondary. Cornerback Darius Slay leads the team with two picks, but has been inconsistent, as has Steven Nelson. They've been OK, but they haven't come close to the Lito Sheppard-Sheldon Brown, Brown-Asante Samuel or Troy Vincent-Bobby Taylor combos of seasons past. Avonte Maddox has missed four games. Safeties Anthony Harris and Rodney McLeod have been so-so. K'Von Wallace has also been hampered by injuries. GRADE: C-minus.
Special teams: Place-kicker Jake Elliott is 11-for-13 on field goals and a perfect 22-for-22 on extra points. New punter Arryn Siposs is averaging 49.1 yards per kick with a 41.1 net. He's had some great punts and some not so good. Reagor is averaging just 4.8 yards per punt return. The coverage units have been up and down. GRADE: C.
Coaching: Nick Sirianni and Jonathan Gannon have taken a lot of criticsm for their play-calling and schemes. Gannon may not last the season and Sirianni could wind up being the first one-and-down head coach in franchise history. GRADE: F.
Midseason Awards
Offensive MVP: Hurts
Defensive MVP: Hargrave
Special teams MVP: Elliott
What South Jersey Eagles Fans Think of Nick Sirianni
More From 920 ESPN New Jersey