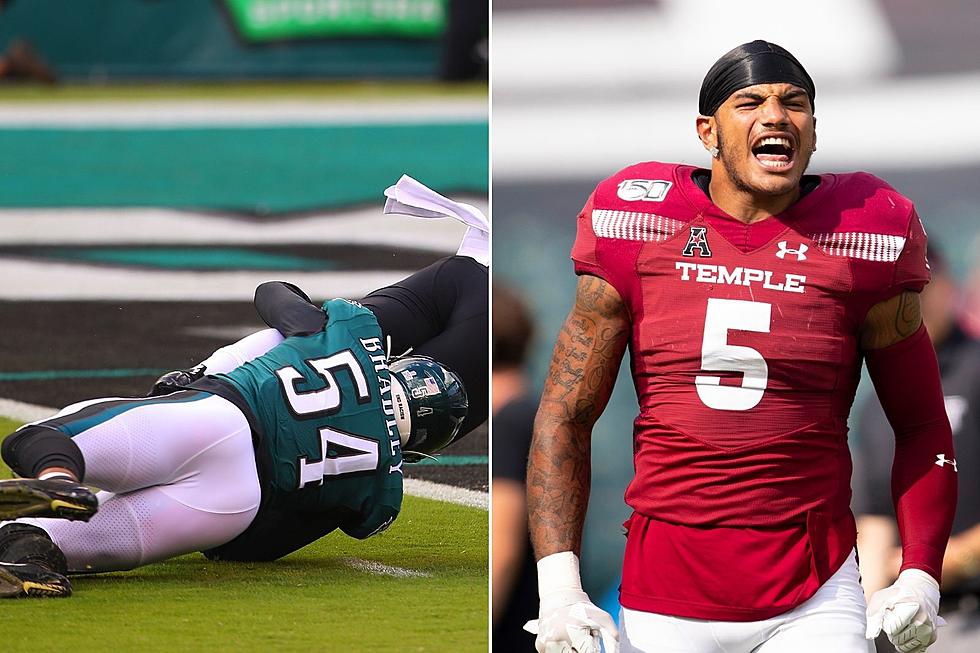 Digesting the Eagles Draft Picks and Preparing for 2021 Season
*(Photos by Mitchell Leff/Getty Images)*
It's been a week since the 2021 NFL Draft and the Eagles draft choices are making their rounds being introduced to the Eagles ownership, coaches and the the Fly Eagles Fly fanbase.  The first four picks Wide Receiver DeVonta Smith from Alabama, Offensive Lineman Landon Dickerson from Alabama, Defensive Lineman Milton Williams from Louisiana Tech, and Cornerback Zech McPhearson from Texas Tech are getting the main headlines and focus of many conversations.  Getting a taste of Philadelphia culture and Cheesesteaks, introductions to the Jersey Shore and the Boardwalks up and down the coast is just the beginning for the newest Eagles acclimation to their new environments.  Last season's 4-11-1 record wasn't what anyone envisioned when the 2020 season started but with this solid draft class and the optimism that has followed, fans are getting excited for a better 2021 season!
The Phillies just completed a four game sweep of the Milwaukee Brewers and the Phils have moved into first place in the National League East with a 17-15.  Zack Wheeler pitched a gem Thursday afternoon, a complete game shutout striking out 8 to improve his individual record to 3-2 with 2.83 ERA.  The Phillies head this weekend to Atlanta for a three game series against the underachieving Braves who are 15-16 along with one and a half games out of first place behind the Phils.  Another winning team in Philadelphia are the Sixers who are on a six game winning streak culminating in a 45-21 record heading into action on Friday Night.  The 76ers currently hold a two and a half game lead over the Brooklyn Nets a top the Eastern Conference with Six Games remaining in the NBA regular season. 
On Saturday in The Locker Room with Billy Schweim, Scott McKay and I will talk about our expectations for the Eagles 2021 Draft selections.  We will hear from Eagles Linebacker Shawn Bradley about his impressions of his first year in the NFL and his expectations for the upcoming 2021 season.  We will also talk Phillies Baseball, Sixers Basketball and we are giving away a 4-pack of tickets for the FINAL Flyers Home game of the season!
On Sunday's The Locker Room with Bill Schweim, Mike Gill sits in with me and produces the show.  The debate will be fun as always as we will review the week in sports as the Eagles, Phillies and Sixers will dominate the conversation.  Then we will hear from former Phillies Pitcher Randy Learch.  There have been three No-Hitters pitched this year in Major League Baseball this year and will get Randy's take on the pitching excellence early in the baseball season.  Plus Randy published an autobiography called "God in The Bullpen" and Randy will talk about his experiences playing in the Major Leagues.
All the action starts every Saturday and Sunday starting at 10am on 97.3 ESPN Radio. 
KEEP READING: Greater Atlantic City Area Athletes Who Played Games In NFL
SEE PHOTOS: Lighthouses of New Jersey
More From 920 ESPN New Jersey