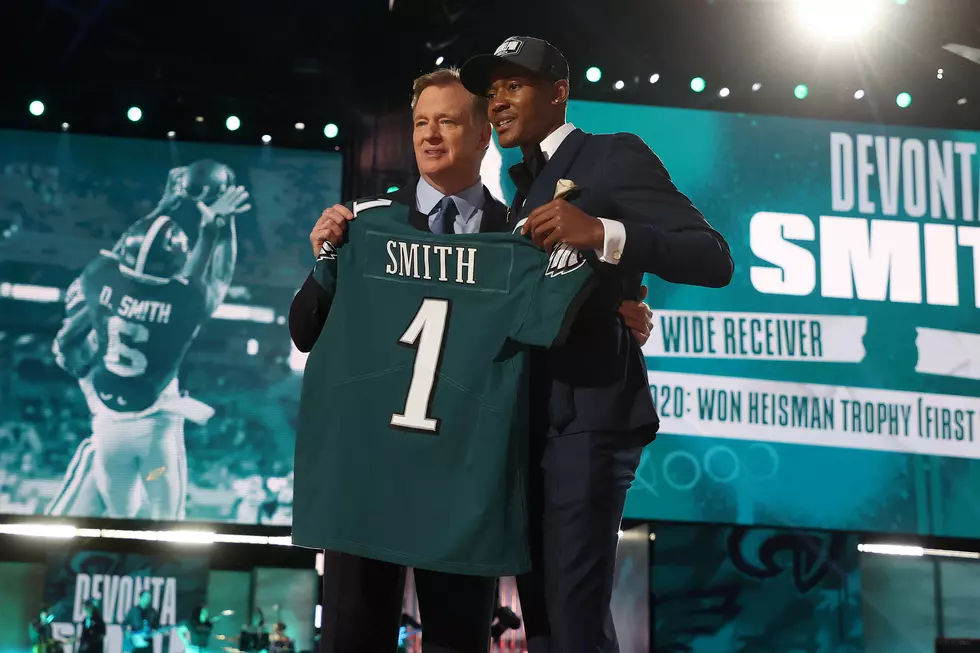 Eagles Make Trade to Select WR DeVonta Smith with No. 10 Pick in 2021 NFL Draft
Getty Images
Jalen Reagor last year and now DeVonta Smith in the 2021 NFL Draft — for the first time in team history, the Philadelphia Eagles' picked wide receivers in the first-round in back-to-back drafts, adding the play-making wide receiver.
The Eagles selected Smith, the Alabama product, with the No. 10 overall pick after a trade with the Dallas Cowboys.  In exchange the Eagles gave Dallas picks No. 12 and 84 to move up two spots for the 2020 Heisman Trophy winner.
"We stuck to our board on this," Eagles general manager Howie Roseman said on a zoom call on Thursday night.  "This is a guy whose grades stuck out, this was one of the top players in the draft for the Eagles. We thought this was a great player and we didn't want to bypass that to fill a need."
During his 2020 Heisman season, he had amazing 117 catches for 1,856 yards and 23 touchdowns, including 12 catches for 215 yards and three touchdowns in the National Championship game against Ohio State.
"I consistently win one-on-one against some of those top corner in the SEC," explained Eagles head coach Nick Sirianni. "When you have a guy like that in you offense that can do that, it makes everybody else around them better."
During his Crimson Tide career, he finished with the most receiving yards (3,965) and touchdown catches (46) in SEC history and caught a Alabama record 235 passes.
Smith should play right away and gives the Eagles a dynamic wide out to play opposite of Reagor, but he could also be used all over the field and on screens.
With veteran Greg Ward, Travis Fulgham, J.J Arcega-Whiteside and last year's draft class with Reagor, John Hightower and Quez Watinks on the roster, it should be interesting to see how new coach Nick Sirianni will deploy his young wide receivers in 2021. .
Smith likely gives Sirianni a guy he can build his offense around, and is a guy that his quarterback Jalen Hurts has a history of playing with. The duo teamed up while Hurts was at Alabama in 2018.
The one question about Smith is his size, at 6-foot-1, 166 pounds, there is some concern about his durability.
"I was shocked," admitted Smith. "They traded up for me, they see something that they like, so I was really excited."
Smith added that he enjoyed working with Hurts, who had a hand in recruiting him to play for the Crimson Tide,
"That's my guy," Smith said.
Eagles First Round Draft Pick Busts
More From 920 ESPN New Jersey