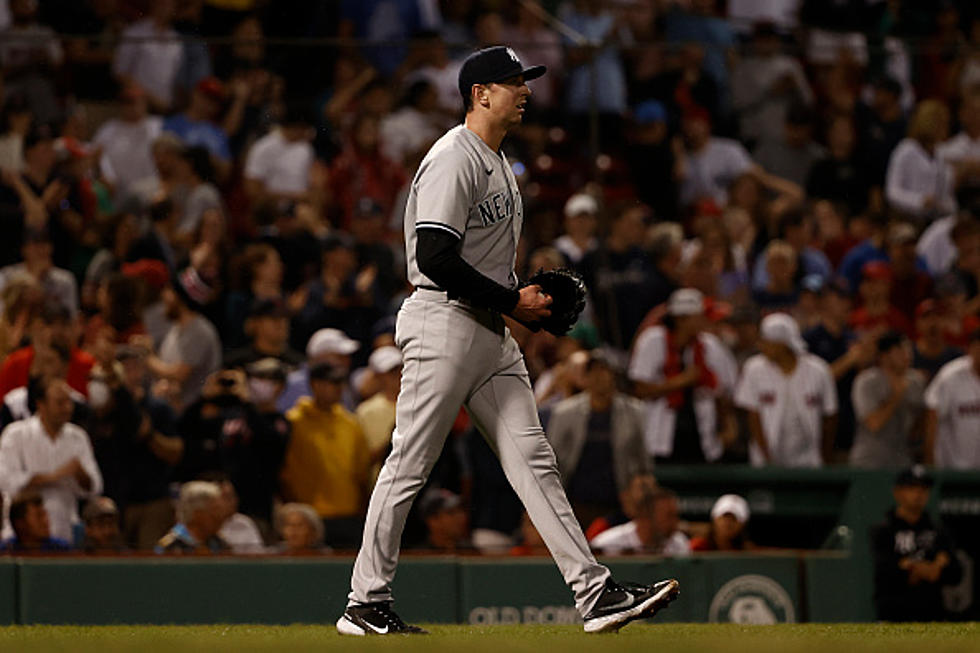 New York Yankees Bullpen Throws Away the Win
Getty Images
The New York Yankees suffered another gut punch from the Boston Red Sox last night at Fenway Park with a heartbreaking 5-4 loss in 10 innings. It's not just a loss to the team they are chasing in the standings, it's the way they lost, again. One out from the celebration of victory, with the Bombers leading 3-1, Yankee reliever Chad Green served up a game-tying double to Red Sox slugger Kíke Hernández in the bottom of the 9th. If that wasn't bad enough, after taking the lead in the top of the 10th inning, 27 year old Brooks Kriske, with 10 big league innings under his belt took the soggy mound for the Pinstripes and proceeded to set a Major League Baseball record, no not in a good way.
With Red Sox free-runner Rafael Devers on second, Kriske proceeded to unravel right before the Fenway faithful. Four wild pitches later (which is the most ever thrown in an inning Yankees history and the most EVER in the Major Leagues in extra innings) combined a sacrifice fly by Boston's Hunter Renfroe and the Yankees celebration turned into a nightmare. Red Sox win and the Yankees drop to 8 games back in the standings.
According to an article by MLB.com's Bryan Hoch, The Yankees have four losses this season when leading by multiple runs in the ninth inning, their most since 1979 -- a season in which closer Rich "Goose" Gossage missed significant time, having shattered his right thumb brawling in the shower with catcher/designated hitter Cliff Johnson." Well, there isn't THAT kind of dysfunction going on but it's bad.
3 more games in the series for the Yankees. Tonight's game is at 7:10 right here on 104.5 FM The TEAM. Charlie Hayes a member the 1996 Yankees World Series team with join The Drive with Charlie & Dan today in the 3 o'clock hour. We will be broadcasting live from the Cutwater Stretch at Saratoga Race Course.
KEEP READING: See the richest person in every state
More From 920 ESPN New Jersey