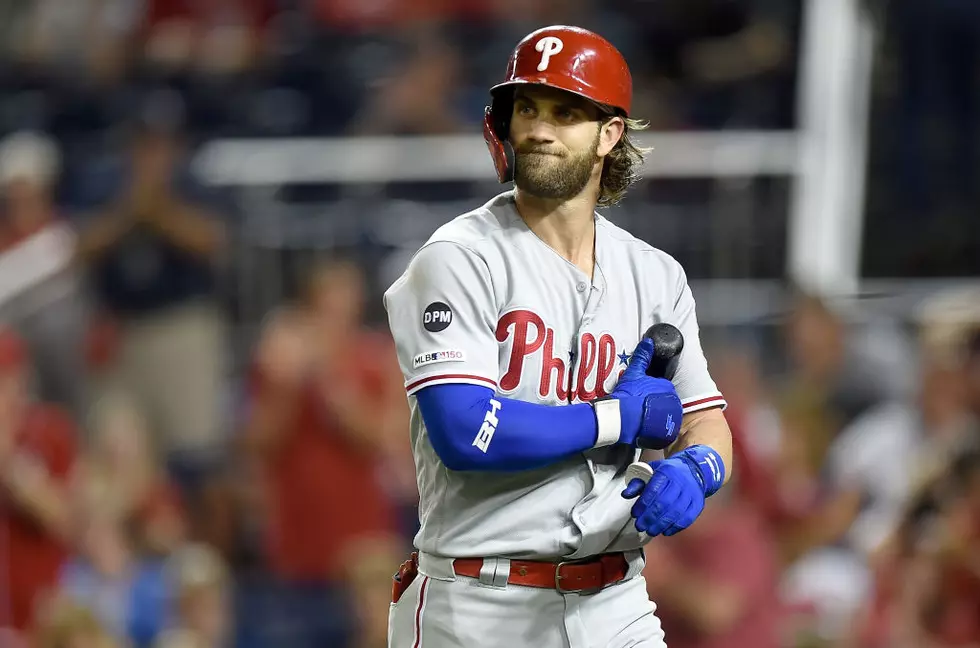 Phillies Injuries: Gregorius Diagnosed; Harper, Segura Leave Game
Bryce Harper is injured again (Greg Fiume/Getty Images)
The Phillies got some mixed injury news on Tuesday night.  One piece of news involves shortstop Didi Gregorius, out with a sore elbow.  The other involves a new injury: Phillies right fielder Bryce Harper.
Gregorius suspended his rehab at Triple-A on Saturday, when he was due to play but did not;.
The Mayo Clinic reports that there is no treatment to cure pseudogout, but there are some treatments to manage pain and resume normal activities.  It sounds as if knowledge of the diagnosis can allow the Phillies to treat it.
The news got worse when Bryce Harper departed Tuesday night's game after an at bat where he seemed to tweak something on an at bat that ended in a strikeout in the fourth inning.  Harper was replaced in right field by Luke Williams, the day's starting shortstop.  Later in the game we learned it was due to a stiff lower back.
Harper was reported to be day-to-day, at least at the time of diagnosis.
The Phillies cannot afford to lose Harper again.  In Harper's last absence, the team's performance was considerably poorer than with Harper in the lineup. The Phillies placed Harper on the injured list May 25 with a left forearm contusion.  He returned June 5.
The Phillies were 3-5 in his absence.
The Phillies added another blow in the top of the ninth inning.  After Jean Segura hit a tapper to second base, Segura seemed to come up lame running to first.  Even after Phillies manager Joe Girardi called Harper "day-to-day", Segura was said to be probably worse than that.
No concrete information is available yet.  Stay tuned.
More From 920 ESPN New Jersey