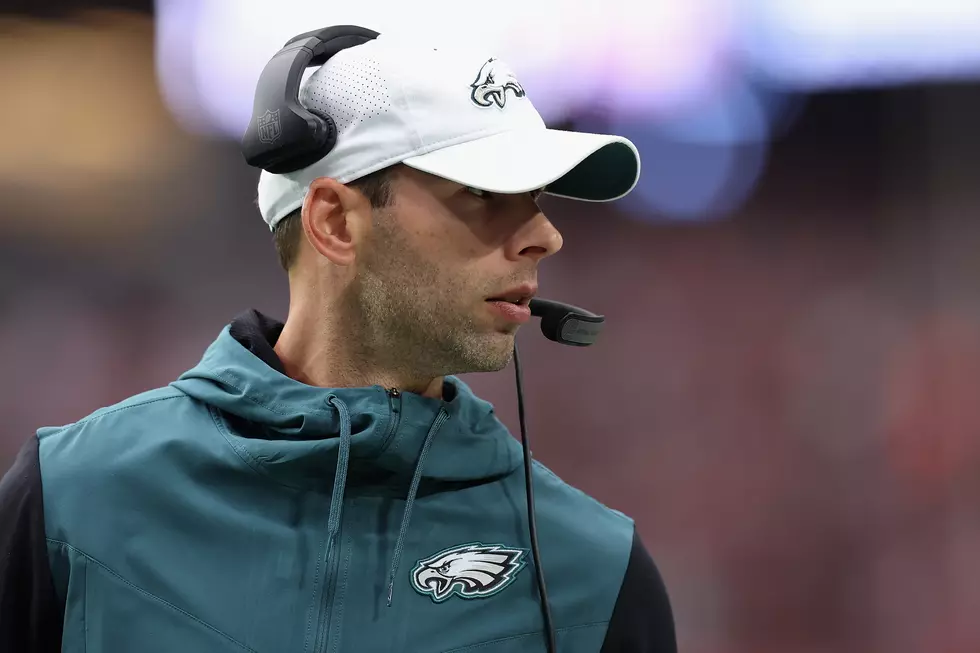 Three Keys to the Eagles Getting a Victory over the Colts in Week 11
Getty Images
The Philadelphia Eagles will be looking to get back in the win column after suffering their first loss of the season on Monday against the Washington Commanders. If they don't win in Week 11, there will be further questions about the legitimacy of their Super Bowl aspirations.
This Sunday, the Eagles head to Indianapolis to take on the Colts in what is looking like a tough game against a team that likes to run the ball and has one of the top running backs in the NFL, Jonathan Taylor.
The Colts made a head coaching change before their game with the Raiders last week, with Jeff Saturday notching his first NFL win after replacing former Eagles offensive coordinator Frank Reich.
Will the Eagles learn from their loss to Washington and implement changes this week? They had better do that or their will be facing plenty of questions about their run and third-down defense next week.
Here are three keys to victory in Week 11.
Stop Jonathan Taylor
Last time out, Colts running back Jonathan Taylor rushed 22 times for 147 yards and a touchdown in the Colts' Week 10 win over the Raiders. Taylor had not looked like himself before exploding last week, dealing with an ankle injury suffered in Week 4.
Against the Raiders last week, the Colts simplified their offense and Taylor could not be stopped. His 22 carries was the highest carry total since Week 1, showing that he seems to be back to 100-percent.
Taylor is a much better running back than the Washington tandem that ran 49 times for 150 yards against the Eagles on Monday night.
"He presents a different challenge because of his skillset, and we have to do a good job, all 11 of us, to stop him," Eagles defensive coordinator Jonathan Gannon said Thursday.
"I was with him -- I told our guys a story -- the first two or three days of training camp he broke a run and literally just ran away from all our defensive backfield. Guy has major gas. He's big, physical. He has really good vision," Gannon added.
The Eagles made a concentrated effort this week to focus on the run, adding a pair of defensive lineman, Ndamukong Suh and Linval Joseph to try and help against the run.
At the podium on Friday, Eagles head coach Nick Sirianni discussed adding the two former Pro Bowl players.
"We are always looking to improve our team and add depth to our team, and we felt like two guys that were really good players, we were able to do that. Now we have some guys banged up as you know and so adding depth to a position that's already a strength was big for us and especially with the injuries that we have right now," Sirianni said.
Keep an eye on Scott
Eagles' cornerback Darius Slay and James Bradbury will be asked to lock down Colts wide receivers Michael Pittman and Alec Pierce in what should be advantage Eagles.
The Colts threw the ball 28 times in the game in Week 10, but it was Paris Campbell leading the way with nine targets, catching seven passes for 76 yards and a touchdown.
That means Josiah Scott will be called on to have a big game against Campbell, a player the Colts might target on Sunday.
You would imagine the Colts will target Scott and he will need to respond, especially if there are a bunch of third down and short situations on Sunday.  Pittman and Pierce and tight end Kylen Granson are going to provide some challenges for this Eagles secondary, but its Scott that could be the key in the secondary this week.
The Twitter handle @TheHonestNFL highlighted the Eagles biggest issue on Monday being the third down and distances for the Commanders being very manageable.
No Goedert 
The Eagles will head to Indianapolis without Dallas Goedert, giving their offense a different look on Sunday against the Colts.
So what will their game-plan look like with Goedert out of the line-up?
Eagles Offensive Coordinator Shane Steichen admitted on Thursday that missing Goedert is going to hurt the offense and that he will be hard to replace.
"It's a good opportunity for Jack Stoll, Grant Calcaterra and Tyree Jackson to step up, so looking forward to those guys getting the reps this week and we'll go from there," said Steichen.
While Steichen mentioned some of the tight ends that will be replacing Goedert, they could look to utilize more of their wide outs in the offense with him on the sidelines as head coach Nick Sirianni eluded to on Monday.
"How do we replace him? You can't, right?" asked Sirianni. "You have to do it by committee. You have tight ends that are there that we have a lot of faith in in this building; it'll start with them."
"Then it goes to where some of his targets go. Probably a couple will go to A.J. Brown, probably a couple go to DeVonta Smith, and then you have backs that get intertwined in that. Slot receivers that get intertwined with that with Quez Watkins."
The Ultimate South Jersey Pizza Guide
More From 920 ESPN New Jersey