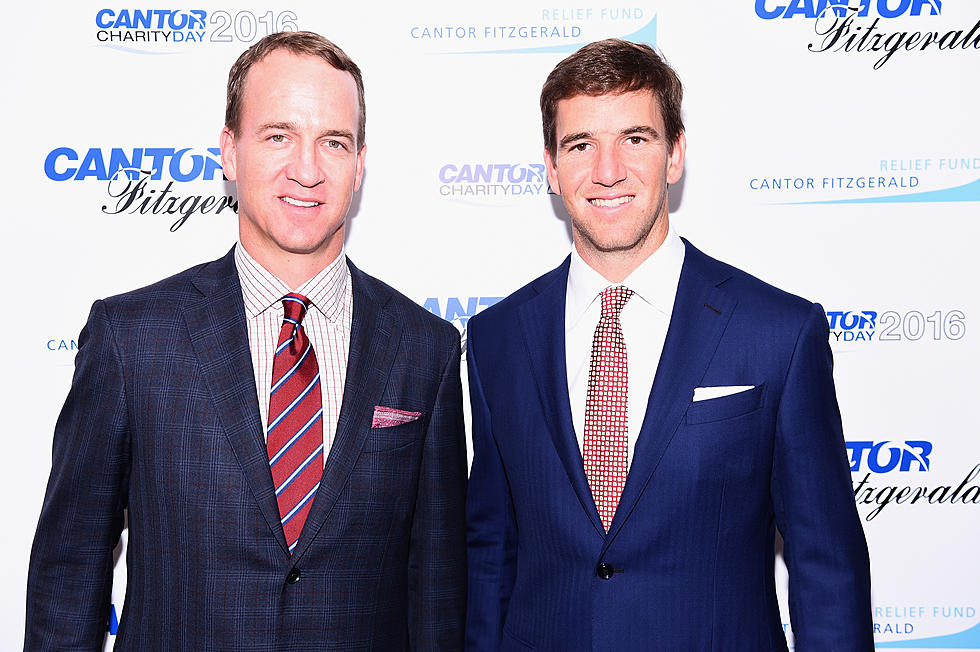 What if the Philadelphia Eagles had Their Own "Manningcast"
Dave Kotinsky
The "Manningcast" that airs opposite the Monday Night Football games on ESPN2 this season has no doubt been a success and its only a matter of time before other stations follow ESPN's lead and add the "Manningcast" idea to their programming.
What if the Eagles did that for all of their games on Sunday's (and some Thursday's and Monday's and the occasional Tuesday night)?
What would make for some good pairs on a Philadelphia Eagles-centric "Manningcast" broadcast?  Now this would be a little tricky, because you wouldn't actually be able to watch the game, you would really just being watching for the hosts watching the game and discussing things as the game was happening.
This is something that would air on say the Philadelphia Eagles website, NBC Sports Philadelphia website, or maybe just on a YouTube platform.
Would he be entertaining? Maybe, if you had the right two or three people to fill the role.
So who might those pairings be? (I didn't pick any current player, i'll save that when I make a new list)
1. Todd Herremans and Tra Thomas:  The duo hosted a podcast on the Inside the Birds platform and were highly informative and entertaining. While you would get very good breakdowns of the game, I think they had enough humor mixed in that would make for an entertaining broadcast.
2. Brian Westbrook, Brian Dawkins and Seth Joyner: You get a little offensive and defensive perspective here, with guys who played in two different eras of popular Eagles football - Andy Reid and Buddy Ryan. Westbrook is a pretty good storyteller and it would be fun to see how much Dawkins and Joyner agree about defense in today's game.  When they would want the team to send the house and other defensive situations.
3. Donovan McNabb and Ron Jaworski: Two of the best quarterbacks in Eagles history talking shop, just like Peyton and Eli.  McNabb has done some studio work and radio, while Jaws was in the booth for Monday Night Football, various studio shows and hosted radio shows.
4. Inside the Birds: The Inside the Birds Podcast has become a must listen since its launch with Geoff Mosher and Adam Caplan.  However they also have a fun team that would mix journalist, insiders and former Eagles. Their current pregame show Mosher and Cpalan also includes Greg Cosell and Jason Avant.  You can even add in Quintin Mikell who does a weekly podcast with Avant and you could easily fill the broadcast with great information.
5. Emmanuel Acho and Mike Vick: The duo were both here for one year together with Chip Kelly in 2013.  Acho has become a media star on FOX Sports and even was the host the 25th season of The Bachelor's "After the Final Rose".  Vick does some work with FOX and could give some great insight.  Im sure the duo of Acho and Vick would have some great stories to tell and I think these two might have a fun dynamic with Acho getting the most out of Vick.
6. Chris Long, Brent Celek and Jon Dorenbos: I have hosted shows with Dorenbos, and he can definitely fill the time and tell great stories and captivate an audience.  Celek was a very popular Eagle, who currently works for the team, but was always a good interview and good story teller. Long has his own podcast and is a good storyteller, this would be a fun trio.
7. Mike Golic, Brian Baldinger and Vai Sikahema: All became popular media figures after their playing careers were over and played together for a short time in Philadelphia. Golic was the popular co-host on Mike and Mike and ESPN Radio. Baldinger is excellent on film breakdown and Sikahema has always been a good story teller.
Here are some of options the listeners sent us on The Sports Bash:
Lane Johnson and Chris Long.
Brian Dawkins, Brian Westbrook, and Jaws.
Jim McMahon and Seth Joyner polar opposites
T.O. and McNabb
Jon Dorenbos and T.O.
The Detmer brothers. Brett from AC
Kevin Kolb, McNabb, Vick and Terrell Owens
Got a good one?  Let us know!
Eagles Top-10 Sack Leaders
More From 920 ESPN New Jersey