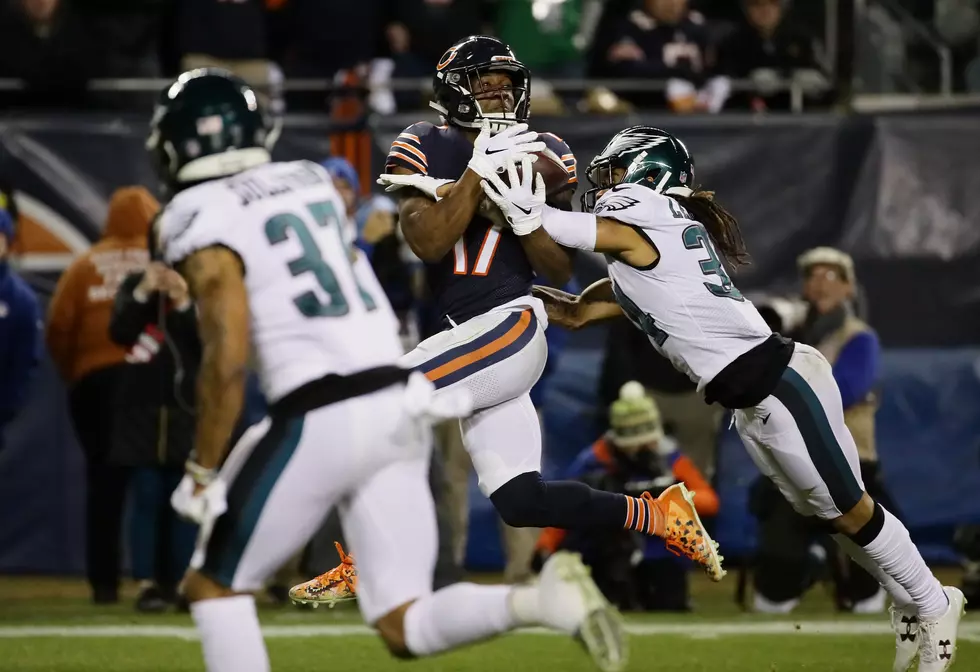 A Trade Possibility for Eagles During NFL Draft
(Photo by Jonathan Daniel/Getty Images)
There has been a ton of speculation about what the Eagles may, or may not do when they make their selection during Thursday's NFL Draft.
One of the spots fans would love to see the team pick is another wide receiver to add another weapon for quarterback Jalen Hurts.
While many mock drafts and speculation has them going that route, weather it be DeVonta Smith or Jaylen Waddle at No. 12, there is another way they could acquire a wide receiver.
A trade.
Last year, the Eagles went that route, adding speedster Marquise Goodwin in a draft day trade with San Francisco and could look to go down that road again.
In a trade that PFF maps out, the Eagles could find a veteran wide out via trade during the draft weekend and one name to keep an eye on is Bears veteran Anthony Miller, who Chicago has been looking to move.
The Bears have made it quite clear they're shopping Anthony Miller, with ESPN's Adam Schefter reporting that Miller was "likely to be dealt" all the way back on March 16.

The Eagles are no stranger to taking on a slot receiver in the final year of their contract and playing the compensatory pick game. They did exactly that with Golden Tate back in 2018. Philadelphia traded their 2019 third-round pick to Detroit and then recouped a fourth-round compensatory pick in 2020, effectively netting out relatively even when all was said and done.

This isn't to say that in this hypothetical scenario Philadelphia has zero interest in extending Anthony Miller were he to put up a strong 2021 campaign, but it demonstrates the team's willingness to take a flier on a guy with the worst-case scenario being that they net out even in the long run. In fact, the Eagles also did just that in a trade with the Chicago Bears when they sent a 2020 sixth-round pick for running back Jordan Howard, as they now have a compensatory 2021 sixth-round pick following his signing in Miami last offseason.

Needless to say, the blueprint is there for this trade. From a football perspective, Philadelphia still has very little to work with at wide receiver for quarterback Jalen Hurts, and a shifty slot receiver who does well to get open over the middle of the field while 2020 first-rounder Jalen Reagor works the outside would benefit Hurts a great deal.

In 2020, the Eagles produced the worst slot receiving grade (58.5) and the fewest receiving yards from the slot (628).
This deal has the Eagles sending one of their three, sixth-round picks to Chicago for Miller, who is in the final year of his deal that pays him just over $1.21 million in salary this season.
Miller is a slot guy who hauled in 49 catches for 485 and two scores on 76 targets for the Bears in 2020. he offers a lot of what Greg Ward does, but would offer more depth at the position if the Eagles want to focus on the defensive side of the ball in the draft.
There has been some talk that with new head coach Nick Sirianni having a background of working with wide receivers, that the team hopes to get more production from 2020 first-round pick Jalen Reagor and 2019 second-round pick J.J. Arcega-Whiteside.
Eagles Head Coaching Wins All-Time
More From 920 ESPN New Jersey