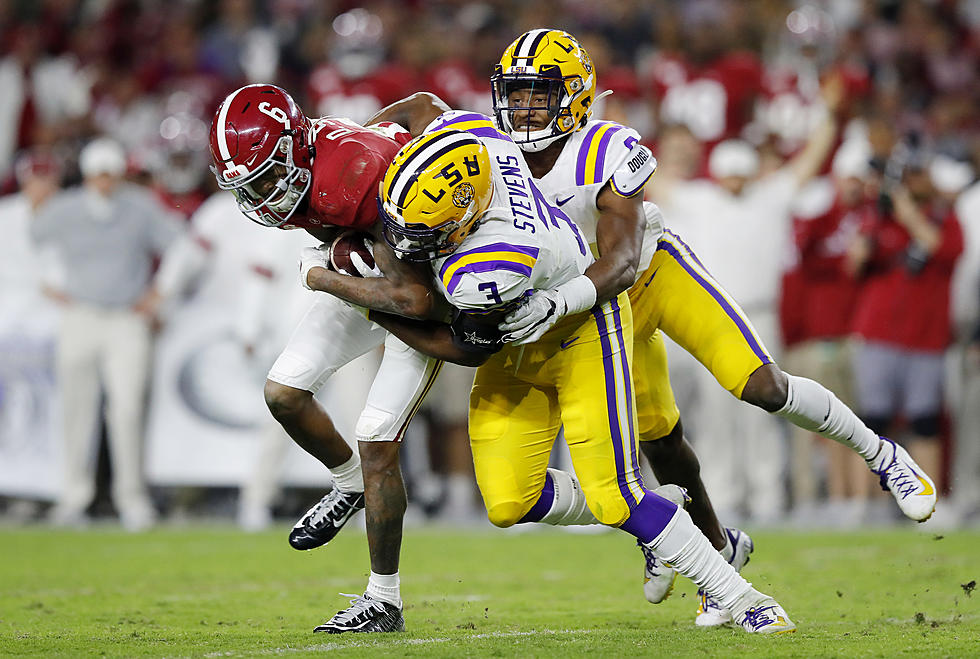 Eagles Add Four Defenders with Final Four Picks of NFL Draft
Getty Images
The Philadelphia Eagles added four players on the defensive side of the ball in round six and seven of the NFL Draft on Saturday.
The team landed defensive tackle Marlon Tuipulotu of USC, defensive end Tarron Jackson of Coastal Carolina, and safety JaCoby Stevens of LSU in round six and defensive end Patrick Johnson of Tulane in round seven.
A three-year starter at USC, Tuipulotu, made 104 tackles, with 8.5 sacks, two forced fumbles and 47 pressures during his Trojan career and was a a 2020 first-team All-Pac-12 selection.
"Really heavy handed guy. Can play the run. Get off blocks. Got to spend time with him down there (at the Senior Bowl)," said Vice President of Player Personnel Andy Weidl. "He made a really favorable impression with us in a young defensive tackle that we're excited to add to our group."
Jackson had an impressive three-year career for Coastal Carolina, posting 172 tackles, 38.5 Tackles for loss and 21.5 sacks. In 2020 the the 6-foot-2, 265-pound defensive end was named to the AP All-American First Team, leading his team in tackles for loss with 13.5 and sacks with 8.5 to go with three forced fumbles.
"Team captain. A lot of negative plays," Weidl explained. "Got to interview him down in Mobile, watch him practice for the week. Really comfortable with the person."
Stevens was a safety at LSU, but could get a look at linebacker by the Eagles.
"I don't have a preference," Stevens said when asked if he rather play safety or linebacker. " At the end of the day, my thing is about coming in and being able to contribute any way possible. So if they have me come in and want me to play linebacker or safety, regardless of what position they want me to play, my job now is to contribute to the Philadelphia Eagles defense."
The 6-foot-1, 228-pounder, was a three-year starter at LSU and is a very good and physical tackler who does a good job covering tight ends and running backs.
"He's a very productive blitzer, he's a very productive tackler," Weidl said. "He's tough, he's physical. And he's a guy we're excited to add."
Lastly, in round seven the team landed Tulane defensive end, Patrick Johnson. Johnson was a highly productive player for the Green Wave with a school record 24.5 sacks.
He had a terrific 2020 season, making 39 total tackles (14.5 for loss), 10.0 sacks, two pass breakups, four quarterback hurries and two forced fumbles in 11 games.
"Two-time team captain. Made a lot of negative plays in his career there," Weidl said. "Strong at the point of attack. Edge rush ability. We think he's going to be a good fit in Coach Gannon's scheme."
The theme of the day was team captain with three of the players selected being team captains for their respective programs. If one of these guys ends up starting and helping out the defense in 2020 it would be a win, with Stevens the most interesting guy of the group.
These Pictures Are Bizarre!
More From 920 ESPN New Jersey