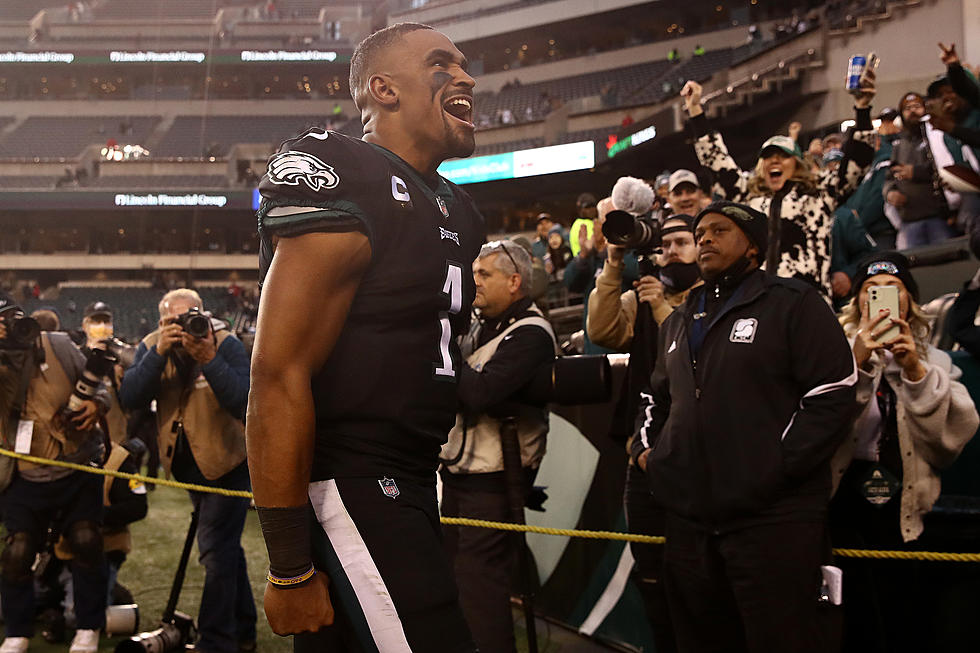 Extra Points: Eagles Earn First Home Win
Getty Images
Eagles fans finally left Lincoln Financial Field Sunday with smiles on their faces.
The Birds earned their first home win of the season, literally running away with a 40-29 victory over New Orleans that helped them maintain a slim chance for a playoff spot.
At 5-6, they're among a group of teams that figure to be fighting for one of the NFC's three wildcard berths. If the playoffs started today, they wouldn't qualify. The Eagles are currently tied for ninth with Carolina (5-6) in the conference behind division leaders Dallas (7-2 before Sunday's game at Kansas City), Green Bay (8-3), Tampa Bay (6-3 heading into Monday's game against the Giants) and Arizona (8-2 heading into Sunday's game at Seattle), plus the L.A. Rams (7-3), Minnesota (5-5), San Francisco (5-5) and the Saints (5-5).
On paper, they seem to have a favorable schedule. Their next five games are against the Giants (3-6) twice, Washington (4-6) twice and the Jets (2-8) before ending the regular season against the Cowboys. But given the rash of upsets that have occurred this season, there are no locks.
Still, for the Eagles to even be in contention didn't seem possible a month ago. A lopsided, 33-22 loss at Las Vegas on Oct. 24 - their fourth defeat in five games - put them at 2-5. Critics were calling for defensive coordinator Jonathan Gannon to turn in his headset and there was rumblings that head coach Nick Sirianni could be the first one-and-done coach in franchise history.
But as the slogan goes, what happened in Vegas, stayed in Vegas.
The Eagles have morphed into a running team. Quarterback Jalen Hurts and running backs Jordan Howard, Boston Scott and Miles Sanders combined to rush for 242 yards on a whopping 50 carries (4.8 yards per carry) against the Saints, a defense that was allowing a league-best 72.9 rushing yards a game. Hurts also tied the franchise record by rushing for three touchdowns and became the first quarterback in team history to do so.
His last TD was amazing. He set up his 24-yard run with a change-of-direction juke that brought a Saints defender to his knees.
"When I'd seen him make that move, I was like, 'Oh, snap,' Eagles cornerback Avonte Maddox said after the game. "I was looking at the trainer so I can grab some tape to help that (Saints) kid."
The Eagles are averaging 218.5 rushing yards on 43.5 carries a game in the last four games. In that span, Hurts has attempted 18.5 attempts after firing the football 34.5 times per game in the first seven contests.
They now have scored 40 or more twice in the last four games. The last time they reached that mark in one game was a 41-33 win over New England in Super Bowl LII.
"(The running game) took time to evolve," Hurts said after the game. "It's our mentality, our approach, attention to detail and physicality."
The defense has also become more aggressive. Gannon has started to dial up more blitzes, putting pressure on opposing offensive lines and quarterbacks. The Eagles didn't have a sack against quarterback Trevor Siemian, but put plenty of heat on him.
They've also become more opportunistic. Linebacker T.J. Edwards had an interception and fumble recovery that was forced by defensive tackle Fletcher Cox. Cornerback Darius Slay, who left the game late with a concussion, scored his second touchdown in as many games with a 50-yard pick six just before halftime.
During the last three weeks, Sirianni's bizarre metaphor comparing the Eagles to flowers that needed fertilizer has started to take root.
The team that looked like it would be pushing up daisies is now starting to blossom.
Every NJ pizza joint Barstool's Dave Portnoy has reviewed
Dave Portnoy, commonly known as El Presidente, is the founder of Barstool Sports. Somewhere along the way, he decided to start reviewing local pizzerias, and the concept took off. Here is every New Jersey pizzeria Dave has stopped in, along with the score he gave them.
More From 920 ESPN New Jersey