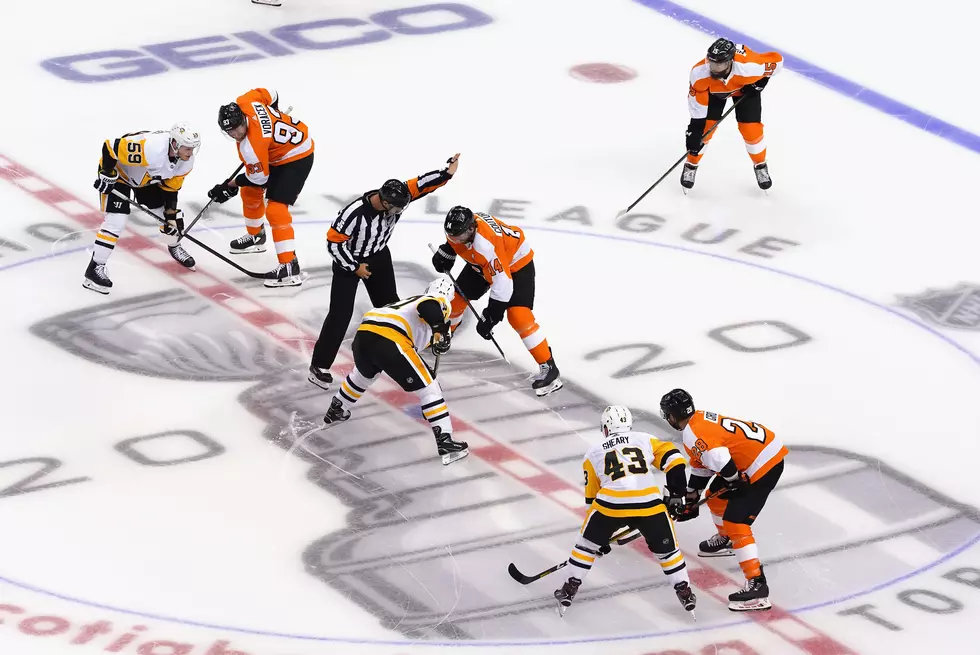 Flyers 2020-21 Season Schedule Released
(Andre Ringuette/Freestyle Photo/Getty Images)
Hockey is right around the corner, as the 56-game season is set to get underway on Jan. 13. It all started to feel a little more real on Wednesday as the NHL announced the schedules for all teams.
The Flyers are set to open the 2020-21 season on Wednesday, Jan. 13, at home against the Pittsburgh Penguins.
The rest of the Flyers schedule is listed below. The start time for all games is TBA.
Wednesday, Jan. 13 vs. Pittsburgh
Friday, Jan. 15 vs. Pittsburgh
Monday, Jan. 18 vs. Buffalo
Tuesday, Jan. 19 vs. Buffalo
Thursday, Jan. 21 at Boston
Saturday, Jan. 23 at Boston
Tuesday, Jan. 26 at New Jersey
Thursday, Jan. 28 at New Jersey
Saturday, Jan. 30 vs. NY Islanders
Sunday, Jan. 31 vs. NY Islanders
Wednesday, Feb. 3 vs. Boston
Friday, Feb. 5 vs. Boston
Sunday, Feb. 7 at Washington
Tuesday, Feb. 9 at Washington
Thursday, Feb. 11 vs. New Jersey
Saturday, Feb. 13 vs. New Jersey
Tuesday, Feb. 16 at NY Rangers
Thursday, Feb. 18 vs. NY Rangers
Sunday, Feb. 21 at Boston
Wednesday, Feb. 24 vs. NY Rangers
Friday, Feb. 26 vs. Buffalo
Sunday, Feb. 28 vs. Buffalo
Tuesday, March 2 at Pittsburgh
Thursday, March 4 at Pittsburgh
Sunday, March 7 at Boston
Tuesday, March 9 vs. Buffalo
Thursday, March 11 vs. Washington
Saturday, March 13 vs. Washington
Monday, March 15 at NY Rangers
Wednesday, March 17 at NY Rangers
Thursday, March 18 at NY Islanders
Saturday, March 20 at NY Islanders
Tuesday, March 23 vs. New Jersey
Thursday, March 25 vs. NY Rangers
Saturday, March 27 vs. NY Rangers
Monday, March 29 at Buffalo
Tuesday, March 30 at Buffalo
Saturday, April 3 at NY Islanders
Monday, April 5 vs. Boston
Tuesday, April 6 vs. Boston
Thursday, April 8 at NY Islanders
Sunday, April 11 vs. Buffalo
Tuesday, April 13 at Pittsburgh
Thursday, April 15 at Pittsburgh
Saturday, April 17 vs. Washington
Sunday, April 18 vs. NY Islanders
Tuesday, April 20 at New Jersey
Friday, April 23 at NY Rangers
Sunday, April 25 vs. NY Islanders
Tuesday, April 27 vs. Washington
Thursday, April 29 at New Jersey
Saturday, May 1 vs. New Jersey
Monday, May 3 vs. Pittsburgh
Tuesday, May 4 vs. Pittsburgh
Thursday, May 6 at Washington
Saturday, May 8 at Washington
Obviously, the schedule remains fluid throughout the season in the event that anything should happen with regards to COVID-19 and possible postponements. That said, when Flyers games are on, you can read all about it here and listen to the games on 97.3 ESPN.
Kevin Durso is Flyers insider for 97.3 ESPN and Flyers editor for SportsTalkPhilly.com. Follow him on Twitter @Kevin_Durso.
Philadelphia Flyers Uniforms Through The Years
More From 920 ESPN New Jersey