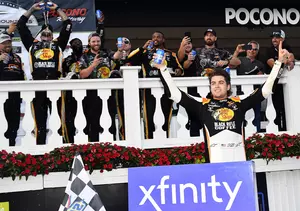 Gragson, Gibbs battle at Pocono
Getty Images
LONG POND, PA - An intense 15-lap battle between two of NASCAR's next biggest stars - Noah Gragson and Ty Gibbs decided the finish of the 2022 Explore the Pocono Mountains 225.
The leaders duked it out for the last 15 laps never escaping a gap greater than .3 seconds between themselves. Ultimately, Noah Gragson won out with a final margin of victory of .281 seconds over Ty Gibbs.
"That was probably the best I've ever driven there," Gragson said. "I'm worn out. Working my ass off out there to keep [Gibbs] back. He's pretty fast. I had to work for it. It was tough. Kept getting tight, tight, tight and with 15 [laps] to go, I didn't think I could hold him off. But we just keep digging."
The winning move of the race ultimately came down to pit strategy. Gragson came down pit road with 38 laps remaining to get four fresh tires and fuel up his number 9 Chevy Camaro while Ty Gibbs team opted for track position and only took fuel for his number 54 Toyota Supra.
"It definitely hurt us giving him a tire advantage," Gibbs said. "But I was so surprised to be able to hang with the 9 (car) when he was on [fresh tires]. Had a great car, just didn't put it together. I just made some mistakes and we'll come back next weekend."
The battle for the lead wasn't the only major bit of drama at Pocono on Saturday. On lap 48, former Indycar driver Santino Ferucci's car got loose coming out of Turn 3. Ricky Stenhouse Jr. piled into Ferucci's and spun down the race track. Jeb Burton, trying to avoid the spinning cars attempted to squeeze between the crash and the pit wall, but was catapulted into the air and slid more than three football fields in length on his roof. Burton was okay.
With only seven races remaining before the NASCAR Xfinity Series Playoffs, AJ Allmendinger currently holds a 16-point lead over Justin Allgaier. The next race is Saturday, July 30 at 3:30 pm at Indianapolis Motor Speedway.
UP NEXT: See how much gasoline cost the year you started driving
The post above reflects the thoughts and observations of Bob Giaquinto. Any opinions expressed are his own.
Questions, corrections, or comments? Send Bob Giaquinto an email. Follow Bob on Twitter and Instagram.
More From 920 ESPN New Jersey