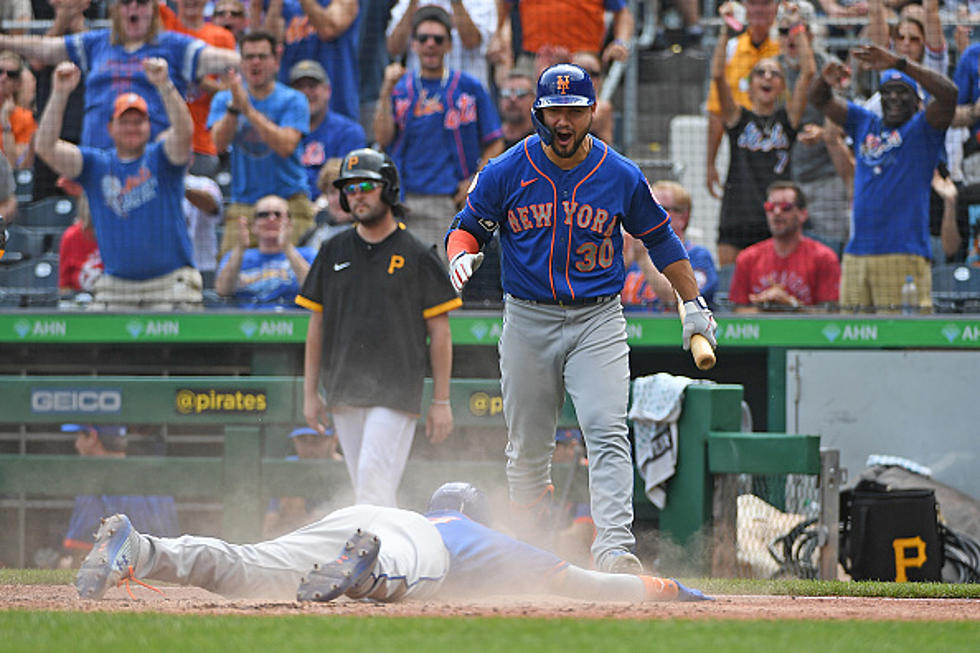 New York Mets Escape from Pittsburgh with a Comeback Win
Getty Images
The New York Mets fell out of the starting gate, to use a horse racing term now that Saratoga and racing season has started, to begin the second half. After watching Edwin Diaz melt down last Sunday, Met fans got treated to an encore Saturday night against the very same, last place Pittsburgh Pirates. The first place Mets limped into Sunday afternoon having lost the first two games of the series. The Bucs could smell a sweep.
Unfortunately for the Mets, it smelled that way right after the National Anthem. Pittsburgh put up a 6 spot in the first inning against New York's lone National League All Star, Taijuan Walker. Walker left the game after retiring one, yes one, batter. There was a big hill to climb if Mets manager Luis Rojas was going get his team out of town without further damage. Except Rojas was ejected for arguing a bizarre play in the first inning where 3 Pirate runners scored on a 70 foot ground ball.
The 39-year old manager had already lost his $300 million shortstop on Friday night, possibly for a few weeks. Rojas taped and glued together a lineup for the entire first half, what's a few more weeks? Right? No pressure, right? Luis was falling apart and it appeared, so was hist team. If the Mets didn't score quickly and often in the next 8 innings, a 3 game slide to the second worst team in the National League (see Arizona in case you wondered who is the worst) would indicate that the long awaited losing spiral had begun.
Not so fast says Travis Blankenhorn! Blankenwho? The newest member of the Mets bench mob pulled the Mets within 2 with a three run blast in the 4th inning. Then Michael Conforto, mired in a terrible slump, completed the comeback victory with a two-run homer in the top of the 9th to put the Mets up by one. Trevor May pitched a scoreless bottom of the 9th to seal the victory for New York.
The Mets are clawing to a tenuous two game lead over the Philadelphia Phillies in the National League East. Jake deGrom and Francisco Lindor are both out with injuries. Maybe the young manager was falling apart or maybe he lit a fire under his team. It was a nice escape from Pittsburgh with a much needed win. Nice job Luis.
LOOK: Here are the 10 US golf destinations with the most courses per capita
Discover where you can find the best access in the country for your pick of courses, the unique terrain that lends itself to world-class golf, and what makes select clubs noteworthy.
More From 920 ESPN New Jersey