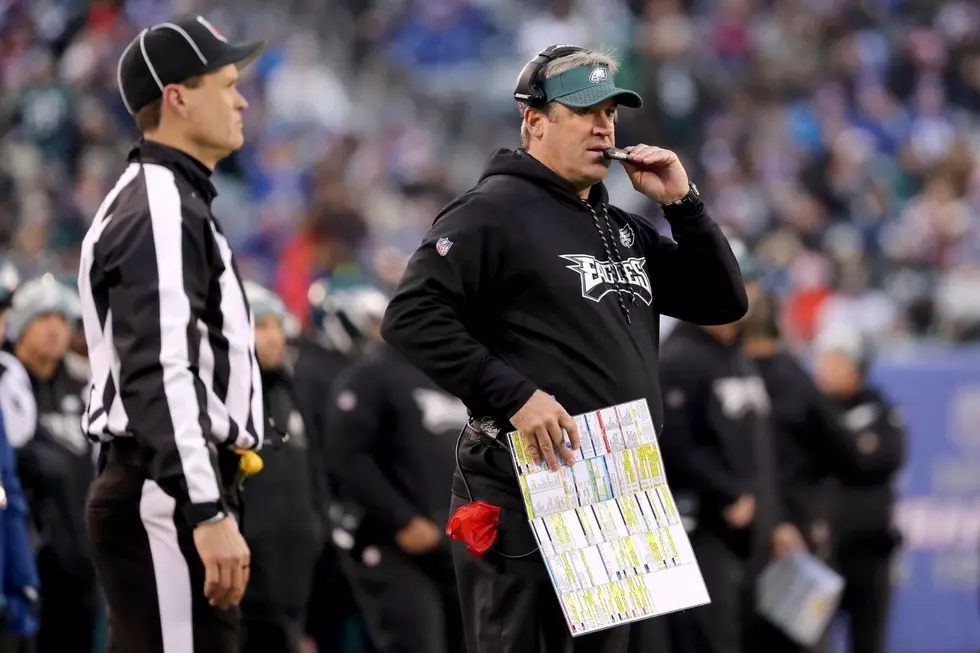 ESPN's Season Simulation has Eagles in Playoffs
(Photo by Elsa/Getty Images
It might be hard to believe, but there will be NFL football on Thursday night.
The NFL season kicks off with the defending Super Bowl champion Kansas City Chiefs facing the Houston Texans on Thursday Night Football (Listen on 97.3 ESPN). As for the Philadelphia Eagles, the regular season gets underway on Sunday in Washington (Listen on 97.3 ESPN).
Enter your number to get our free mobile app
ESPN simulated the entire season, game by game, so if he want the 2020 NFL season to be spoiled, continue reading.
ESPN created 20,000 simulations for the 2020 season and he is how the 2020 season plays out for the Eagles according to the simulation.
The Eagles get off to a hot start to start the season, with a 4-0 to open the season, with wins over Washington, the Rams, Bengals, a surprising 42-7 blowout win in San Francisco.  During those four weeks, running back Miles Sanders was the league leading rusher with 317 rushing yards.
The Eagles first loss comes at the hands of the Pittsburgh Steelers in Week 5, but they follow that up with a 20-10 win over the Ravens in Week 6. Week 7 has an ugly loss against division rival New York, but a Week 8 win over Dallas brings their record to 6-2 at the half way mark of the season. Dallas was 4-4 and both New York and Washington have two wins.
Its an up-and-down second half of the season, which starts with a bye, followed by another loss at the hands of the Giants in Week 10.  Week 11 is a win over the Browns, a 17-9 loss to Seattle, impressive wins over the Packers and Saints, followed by a loss to Arizona. The Eagles close out the season losing to Dallas and beating Washington to close out the season at 10-6.
That record is good enough to capture the NFC East and return to the playoffs for the fourth straight season.  Dallas ends the year at 9-7 and is a wild card team, with New York (7-9) and Washington (4-12) both missing the postseason.
The bad part of this is while the Eagles won the division, they will lose to Dallas in the wild card round, 16-10, ending their season losing to the Cowboys all three times they face-off in 2020.
If there is any consolation to this simulation, the Cowboys are blown out in the Super Bowl and Andy Reid's Chiefs capture their second straight Lombardi trophy.
More From 920 ESPN New Jersey