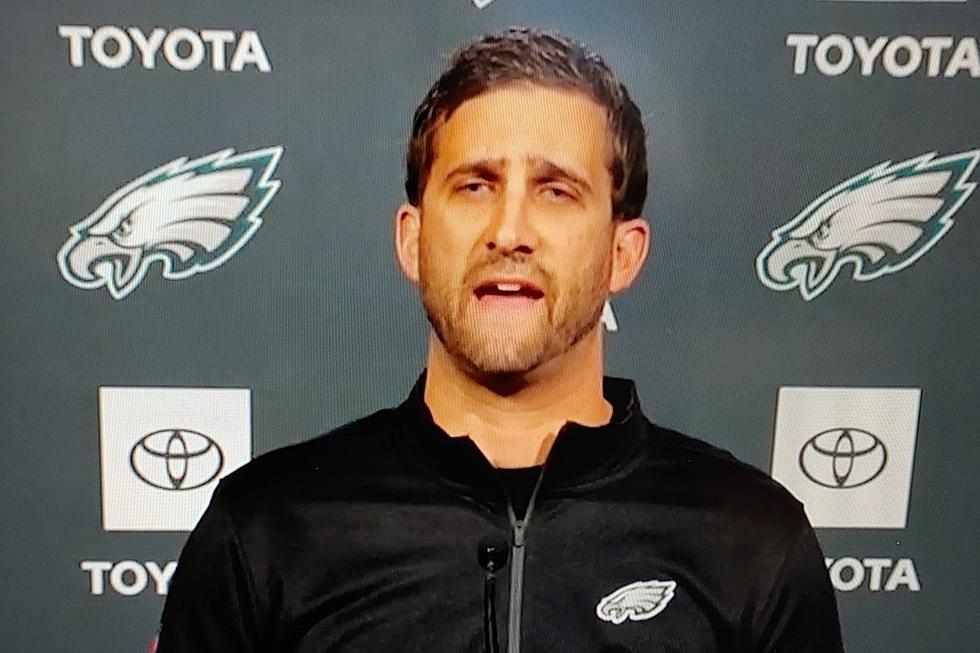 Stop Judging Nick Sirianni and Let Him Prove Himself on The Field
(Photo courtesy of the Philadelphia Eagles and Live Stream/Josh Hennig/Townsquare Media)
After this past Wednesday's Eagles Press Conference, many people were hyper analyzing what and how new Eagles Head Coach Nick Sirianni spoke about different topics while his measuring players competitiveness with playing games received criticisms from many corners of the football world. But what got lost in the hyperbole from fans and certain members of the media is that Nick Sirianni had a lot more to say during this press conference than just talking about "Rock, Paper, Scissors" and his enthusiasm has been misinterpreted by those who seemingly want to find anything wrong with the 39 year old first year Head Coach.
11-year NFL Offensive Lineman and NFL Network Analyst Brian Baldinger was a guest this past weekend on The Locker Room with Billy Schweim was asked about the first year Eagles Head Coach; His answers may open some people's minds about this new Head Coach:
"(Nick Sirianni) is very passionate about the game and about teaching the game the right way and playing the game the right way. I thought he was a good balance in Indianapolis with (Colts Head Coach) Frank Reich because Frank is pretty understated, not real loud (but) Nick is. One thing you have to do (in the NFL) is be yourself and that's who Nick is, he is boisterous, he's passionate, he's going to wear his emotions on his sleeves, he's can't just subjugate that, just to tone things down. (Former Eagles Head Coach) Dick Vermeil was the same way....You just have to be yourself (as an NFL Head Coach), if you are genuine then you will connect the ways you are going to connect (with the players). We will find out pretty soon what kind of coach he is but I am also giving Nick a solid chance here."
Interesting that Nick Sirianni will be the same age as Dick Vermeil when he coached his first NFL game with the Eagles at the start of this upcoming 2021 NFL season (40 years old). Both men are passionate about the game, both men were relatively unknown by many fans when they were hired, and both men were misunderstood by the fan base at the start of their tenures. Now I am not saying that Sirianni will have the same level of success that Vermeil had in Philadelphia (Vermeil is third in Eagles Franchise History with 54 Head Coaching wins) but history has shown us that patience has yielded the best results in for this organization over the last 50 years. The three Head Coaches who have led the Eagles to Super Bowl appearances have all had losing records in their first seasons in Philadelphia (Vermeil, Andy Reid, Doug Pederson); on the flip side we saw Ray Rhodes, Chip Kelly, and Rich Kotite all have a 10-6 record in their first seasons on the Eagles sidelines.
Brian Baldinger also explained why he likes Nick Sirianni and what about his background are positive precursors for the young Head Coach:
"I like Nick (Sirianni), he's got a great background (with) his father was his High School Football Coach and his brother took over to coach the High School up in Jamestown, New York (while) his other brother is the Head Coach at Washington and Jefferson College outside of Pittsburgh. All Nick has ever known is coaching, all his vacations were coaches vacations, and I think that he has got a real command, he's going to coach the players hard, he will get their respect and their attention.....Regardless of how he comes across in press conferences or anything else like that, when you get in a room with Nick Sirianni, you're listening to a real football coach."
Sirianni's background combined with his football passion reminds me of another current NFL Head Coach: The Los Angeles Rams' Sean McVay is the grandson of former NFL Head Coach and Super Bowl Winning NFL Executive John McVay. Many of the adjectives used to describe Sirianni have also been used for McVay. Both men got their first coaching jobs before celebrating their 24th Birthday and both got their starts in the NFL as Offensive Assistants. Again, I am not saying that Sirianni will have the same success as McVay (He has a 67.2 Winning Percentage with a Super Bowl Appearance) but there were many detractors for McVay when he was hired because of his age and youthful exuberance.
What has stood out to me about Nick Sirianni is his answers to real football questions and not the headline grabbing topics. Unlike past Eagles Coaches, Sirianni seems to be very interested to talk about football with real details. Over the last 20 years, Eagles fans heard Andy Reid say a lot of nothing, Chip Kelly talk down and be condescending to everyone, while Doug Pederson was overly concerned about not giving away his game plan each week.
Here is what Nick Sirianni had to say about what an X-Receiver looks like in his offense:
"What does an X-Receiver look like? Well I've different (X-Receivers), I've had TY Hilton who was 5'9" and 180 lbs, he played X for us (in Indianapolis), I had Dwayne Bowe who was 6'2" at 220 lbs, he played X for us (in Kansas City), I had Keenan Allen who was 6'2" and 210 lbs....TY was fast, Keenan was quick and not fast, Dwayne Bowe was powerful, they all played different. So it's just a matter of can that guy do what you want, that person do it on the outside and really when you say X-receiver (the question is) can he win one-on-one matchups consistently."
That is just one example of many examples showcasing how Nick Sirianni looks at the game of football. His passion to talk ball is obvious and he gave numerous detailed explanations for football questions last week, answers that got overshadowed because some people wanted to obsess over "Rock, Paper, Scissors" and how Sirianni sounds when he speaks.
At the end of the day, how a coach sounds during a press conference doesn't matter to winning games on the football field. You can win the press conference and steal the headlines but be a lousy coach and communicator when it matters in preparation each week and be football illiterate on game day.
I remember back in 2016, Doug Pederson's first year was not just overshadowed with a losing record for the Eagles, but his press conferences each week made it obvious that Pederson never took or paid attention to a Public Speaking Class in High School or College. If I had a dollar for every time Doug Pederson uttered "um" and "uh" and "you know" and stuttered his way through answers, I would at least have half a million dollars. Speaking to the media was not his strength, but if you ever saw a behind the scenes video from the Eagles or any NFL Films footage, Pederson was a different man speaking to the players on game days. But many people judged Doug Pederson on his press conferences over the last 5 years (which some were really poorly executed on his part I have to admit) yet they forget he led the Eagles organization to their only Super Bowl Championship and he has the second most playoff wins in franchise history (4 wins is behind Andy Reid's 10 and ahead of Dick Vermeil's 3).
So I will repeat what Brian Baldinger said this weekend on The Locker Room with Bill Schweim on 973 ESPN: I am also giving Nick a solid chance here - I understand we are hyperjudgmental and impatient society as a whole, but I am not a follower of the crowd. Nick Sirianni is a football diehard at heart, his enthusiasm for the game can be infectious, and I appreciate his passion for the game. To be candid, if you listen to everything Sirianni says and still can't stand him, then either you don't love Football as much you think you do or you are letting presumptive biases about people cloud your judgment. If Chip Kelly got three seasons in the City of Brotherly and Ray Rhodes got four seasons, precedent says give Nick Sirianni a few seasons to prove his worth as a Head Coach.
Eagles Head Coaching Wins All-Time
LOOK: Carson Wentz's $1.7M South Jersey Estate is for Sale
More From 920 ESPN New Jersey