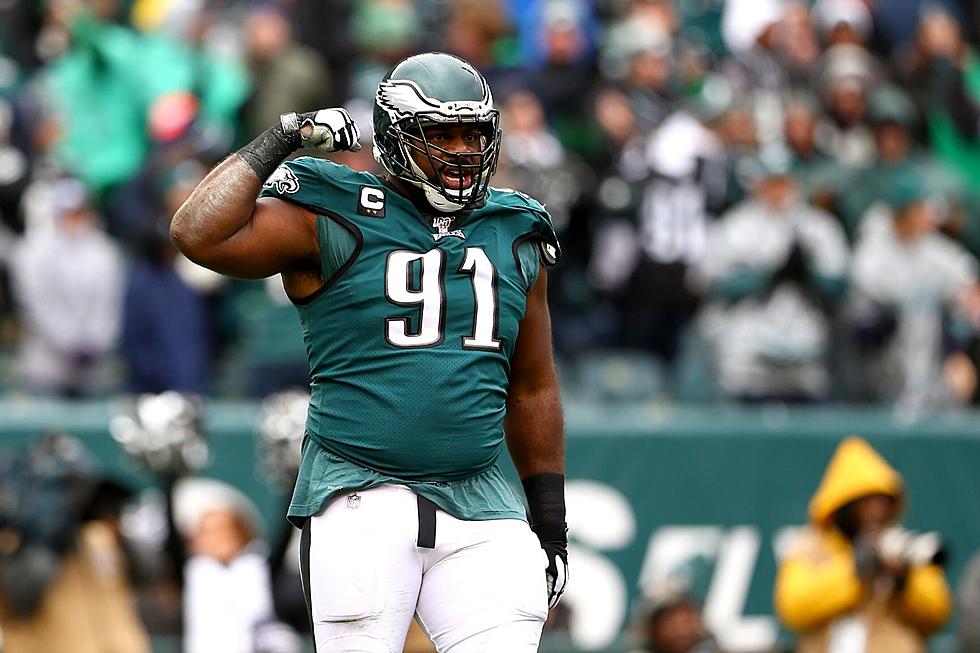 What Eagles Defensive Players Are Ranked Top 5 At Their Positions
Photo by Mitchell Leff/Getty Images
The Eagles Defense has been a controversial topic among fans over the last few years despite the fact that Philadelphia has been no worse than 15th in the NFL in Points Per Game Allowed under the guidance of Defensive Coordinator Jim Schwartz.  Heading into the 2020 season, the Eagles have three players on the roster who have been selected to NFL All-Pro Teams: Fletcher Cox, Brandon Graham, and Darius Slay.
ESPN NFL Insiders surveyed more than 50 League Executives, Coaches, Scouts and Players as they ranked the top ten players at different position groups.  The result of the ESPN+ survey is two 2020 Eagles Defensive Players landed in the top five of their position groups.
Among Defensive Lineman, Fletcher Cox was ranked third overall right behind Chiefs DL Chris Jones as ESPN+ expained
Cox had a similar composite ranking to Jones but garnered fewer top-three votes.
Cox is three years older than Jones and the Eagles All-Pro Defensive Tackle has 10.5 fewer Sacks over the last three seasons than the Chiefs Star Defensive Lineman.  Despite that different in Sack numbers, both players have almost identical number of Quarterback Hits over the last two season: Cox has 61 and Jones has 61.
ESPN+ got two different responses in what is different between Cox and Jones:
"If you're talking quickness, Cox gets the edge," an NFC exec said.

Cox is still No. 1 on opposing offenses' game plans each week. But production slipped last year. Cox's 3.5 sacks were his lowest total since 2013.

"Fastball wasn't what it was two years ago, but still premier," said a veteran NFL defensive coach.

Ask veteran offensive linemen about that fastball -- as we did -- and they'll debunk that in a hurry.

"There's no one else I hate facing more, maybe other than Aaron Donald," said one veteran NFL guard. "He can beat you with speed or overpower you.
The other Eagles Defensive Player who got a high ranking by those surveyed by ESPN NFL Insiders was Darius Slay.  The new Philadelphia Cornerback is coming off a season with his fewest Interceptions (2) since 2016 but ESPN+ has an explanation for that:
Slay isn't coming off his best season in Detroit, but unrest existed between Slay and the Lions organization. Plus, Lions corners played consistent man despite the defense ranking next to last in sacks with 28, applying more pressure on downfield routes.

"Slay is a guy you'll go into Sunday with all day," said one NFL coordinator. "He'll play man coverage all day -- he'll battle, not afraid to get in spaces, match up with anyone, and he can run."
Slay is in the prime of his career compared to the Cornerbacks surrounding him on the rankings; Bills' Tre'Davious White (Third in the rankings) and Saints Marshown Lattimore (Fifth in the rankings) are both entering their fourth seasons in the NFL compared to Slay who is entering his Eight.  Despite the age discrepancy, Slay has more Interceptions (13) and Passes Deflected (56) than his younger counterparts over the last three seasons.  ESPN+ had their own stats about how good Slay has performed over the last few years:
Over the last three seasons, Slay allowed the league's third-lowest completion percentage as the nearest defender, at 51.8.

That's why the Eagles are elated to get Slay, who signed a $50 million extension with the team after Philadelphia swung a trade with Detroit. The Eagles held out for a lead corner for the last two years and got the deal they wanted.

"He's got natural ball skills and awareness in the open field, which will help him age well," said an NFC defensive assistant coach
Heading into the 2020 Season, Darius Slay is arguably the best Cornerback the Eagles have on their roster since Asante Samuel played in Philadelphia from 2008-2011.  Like Slay, Samuel also was the NFL Interceptions Leader for a season and an NFL All-Pro Team selection before beginning his Eagles career.
Eagles Quarterbacks With The Most Wins Since 1980
More From 920 ESPN New Jersey