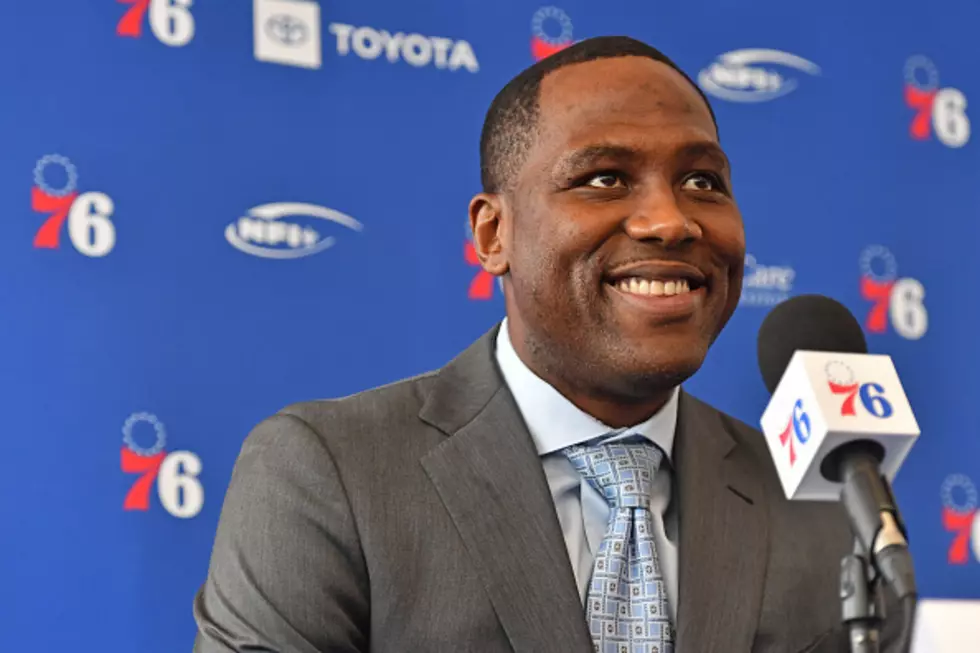 Elton Brand: 'I'm Not Looking to Trade Ben or Joel'
NBAE/Getty Images
Sixers GM Elton Brand spoke to the media on a zoom call on Tuesday, one day after firing head coach Brett Brown after seven seasons on the job.
Among the highlights from Brand, he acknowledged that while changes are needed and the team needs to get better, its not going to be by trading Ben Simmons or Joel Embiid, but rather, find pieces that compliment them better.
"I'm not looking to trade Ben or Joel, I'm looking to complement them better," Brand explained. "They want to be here, they want to be with our organization."
Enter your number to get our free mobile app
The duo is under contract in Philly until at least 2023. Meanwhile, Tobias Harris and Al Horford are also inked to long-term, expensive deals with the team making it difficult to improve the team.
"I would keep them both for right now," said ESPN front office insider Bobby Marks on 97.3 ESPN's Keyshawn, JWill and Zubin morning show. "If you are asking me who is more valuable, I think Ben Simmons is more valuable than Joel Embiid."
Marks mentioned the team needs to start holding Embiid more accountable, a theme that has come up often in the past few days since the Sixers defeat at the hands of the Boston Celtics.
"I don't think he is held accountable enough, I really don't," Marks said. "He is so talented, but the trend is there during a game, he is out of shape, we have seen the same old stories from Joel that last couple of years."
Marks, a former front office executive with the New Jersey Nets, also appeared on The Sports Bash on Monday and furthered his disappointment in Embiid.
"When are you going to get in shape," Marks wondered. "I don't want to hear the same excuses, I thought after he lost to Toronto last year that was going to be enough."
So while it appears that Ben and Joel will both be back, what about moving Harris or Horford?
"You have to identify, the buyers remorse trade. You need to identify somebody from last offseason who signed guys they have remorse.  Sacramento with Buddy Hield or Harrison Barnes, guys like that where you're swamping out contracts."
"As for Tobias, his contract is big, but you do get 20 points from him, but getting rid of guys just to get rid of guys, you listen, but you still have the issue of the fit of Al and Joel."
Marks mentioned that the Sixers were forced into overpaying for Harris because of the amount they gave up to get him in the deal with the Clippers last season.
"That's what happens when you give up so much in a trade. I've seen that happen a lot of times," Marks said.
Which makes you wonder about Brand, and the decision making ability of the Sixers front office. Brand addressed that very topic today.
"I've been taking a deep dive on where we failed, what went wrong, and how we get better," Brand explained.
"I felt like we need to strengthen our organization from top to bottom, and that starts with the front office. I'm not sure exactly what changes are going to be made, but I'm assessing it and looking at it and I'll make the right recommendations to have this team in a position to win."
And that includes the hiring the next head coach.  Brand made it clear that the past collaborations of the front office didn't work, and that he will be leading the efforts in hiring a new had coach.
"To be clear and frank, we feel that the collaboration days didn't work too well," Brand admitted. "So I will be leading this search. I'll make the recommendation to Josh (Harris) of course."
The Sixers have been critizied for having too many voices and hands in the decision-making process, something Brand seems to think is behind them now.
The Sixers better hope that Brand is up for the task. He admitted to being thrown into the deep end of the pool, and seems to think he has learned from the mistakes of the past.
"I was a rookie thrust into a position to lead a team with championship aspirations, that the fan-base sacrificed and struggled for for some years," Brand said. "My understanding of the game grew, how to manage and how to lead. I'll admit I didn't know a lot, but now I do know a lot more."
The problem is, the Sixers are out of ways to clean up their past mistakes, including the ones made by Brand.
While Sam Hinke and the Sixers ownership group preached patience during the 'process' years, Bryan Colangelo and Brand seemed to take short cuts to try and speed things up, making a litany of mistakes along the way.
The treasure chest of draft picks are gone. The cap-space is gone.  All that is left is a bunch of bad contracts, a clunky roster with a lack of outside shooting, shot creators, and two young stars that people are starting to wonder if its time to move on from.
Sixers First-Round Picks Since 2000
More From 920 ESPN New Jersey