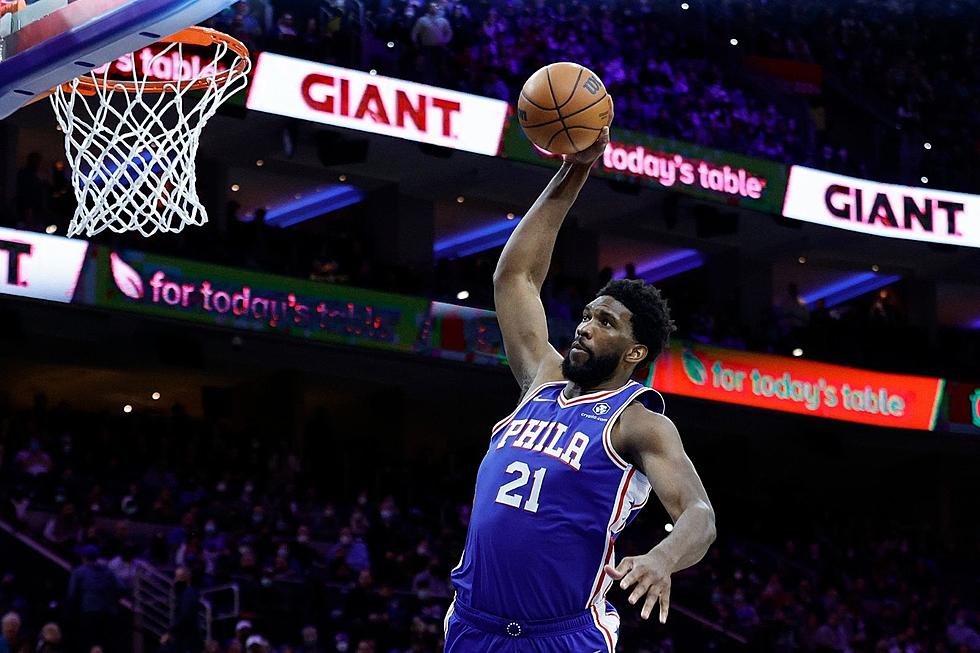 Joel Embiid is more than just the front-runner for NBA MVP
(Photo by Tim Nwachukwu/Getty Images)
The season that Joel Embiid is having is more than just arguably the best of his six years on the court in a Philadelphia 76ers uniform, Embiid is playing on a whole new level at age 27 years old. Embiid is currently second in the NBA in Points Per Game (29.1), Ninth in Rebounds per game (10.8), leads the league in Free Throws Made (343), second in the NBA in Player Efficiency Rating (34.1), and he is averaging a career-high in Assists with 4.4 per game.
Joel Embiid is the current betting favorite at most Sportsbooks to win the NBA MVP Award, odds ranging from +200 (Draft Kings) to +240 (Caesars William Hill). What differentiates Embiid from other MVP candidates such as Giannis Antetokounmpo, Steph Curry, and Ja Morant is that the Sixers' roster doesn't have the caliber of talent that the Bucks, Warriors, and Grizzlies have. Last season we all had the back and forth debate about Embiid versus Nikola Jokic; I still hold the belief that Jokic won the MVP award last season because he was the "Last Man Standing" and didn't miss any games while Embiid missed 10 straight games due to testing positive for COVID-19 in a shortened 2020-21 NBA season.
Bally Sports NBA Insider Brandon "Scoop B" Robinson joined GameNight with Josh Hennig on Monday Night and talked about Joel Embiid's MVP candidacy plus how great he has played:
"What stands out to me about Joel (Embiid) is how he is doing it, he is playing in a situation where he is the 'LeBron James' of his team, he is literally passing the ball, scoring the ball, (and) rebounding the ball at a high clip. And more than anything else, he's doing it with a sense of humility, I think he's won the fans over by his level of loyalty, what he's saying (and) how he's saying it. Tobias (Harris) told me the other day 'Man I want to get an alley-oop to him because he's passing all the basketballs' - Joel Embiid, for me, the best is yet to come; I talked to Carmelo Anthony when he was (in Philadelphia) on Thursday and he called Joel Embiid 'Hakeem Olajuwon-esque' and (Sixers Head Coach) Doc Rivers said that Joel is more like a combination of Hakeem (Olajuwon) mixed with Patrick Ewing. I asked Joel Embiid what he thought and he said that he watched Dirk Nowitzki, he watched Kobe (Bryant), he watched Hakeem, he watched Patrick - I think that last year he dealt with injuries, this season he is the face and leader of this team, and there's just a level of pizzaz and a level of swagger that he has that to me is unmatched right now. He's focused...he's in a good headspace, his team is behind him, and he's got some help right now with guys like Danny Green, Tobias Harris, as well as Tyrese Maxey. - I definitely think that Joel Embiid has room to grow, I think he's the MVP (this season)"
I was saying weeks ago on GameNight on 973 ESPN that Joel Embiid should be the front-runner for the NBA MVP Award and just recently the betting odds plus public sentiment has caught up to what those of us who are watching the Sixers each night have seen. Embiid, who turns 28 years old in March, is playing the best ball of his career and it's incredible to watch him play a that Superstar Level each night. I will not go as far to say he's the best player on earth today, the award is Most Valuable Player and no player is as valuable to his team as Joel Embiid is to the 76ers. The Grizzlies won games this year without Ja Morant, the Lakers have Anthony Davis and Russell Westbrook aside from LeBron James, Steph Curry is playing next to three All-Stars each night, while Giannis Antetokounmpo has two All-Star running mates - Joel Embiid has high level shooters (Seth Curry), great locker room guys (Danny Green), talented complimentary players (Tobias Harris), and a young star in the making (Tyrese Maxey) but the man known as "The Process" doesn't have the caliber of "side-kick" that the others around the league benefit from.
Joel Embiid is more than just the front-runner for NBA MVP, we are watching the evolution of a Superstar who one day may be a Basketball Hall of Famer and potential 76ers' legend. Enjoy the show and appreciate Embiid every night!
Top Ten Rebounders in Sixers Franchise History
More From 920 ESPN New Jersey