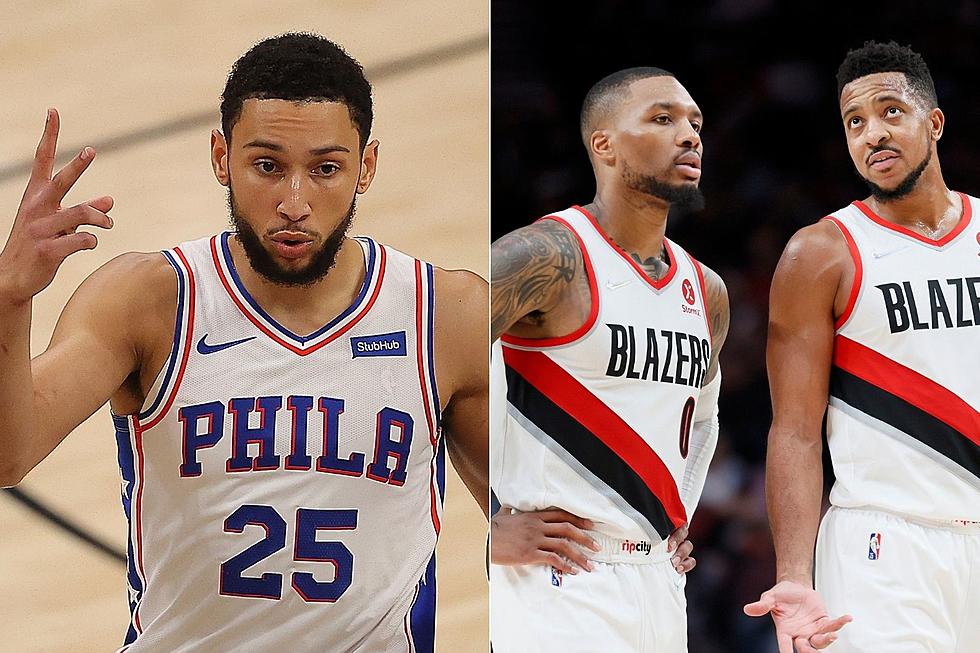 NBA Insider gives some clarity to latest Simmons-Lillard reports
-Ben Simmons: (Photo by Kevin C. Cox/Getty Images) -Damian Lillard amnd CJ McCollum: (Photo by Steph Chambers/Getty Images)
In the aftermath of the latest series of reports relating to Ben Simmons, Damian Lillard, and CJ McCollum's future, everyone is trying to put together all the pieces and make sense of everything as we are now under a week away from the December 15th deadline when every NBA player becomes eligible to be traded. Before NBA action on Tuesday, teams like Portland at 11-14, Minnesota at 11-13, and others who are outside the top six in their conference standings are going to have to start making decisions about whether they need to start making moves to stay in contention.
Of course, one of those teams who need to make decisions includes the Philadelphia 76ers who are themselves 13-11 and on Monday night struggled to defeat a Charlotte Hornets teams that was without their best player and major contributors on their roster. While the 76ers are 10-3 with Joel Embiid on the floor, he has been doing most of the heavy lifting scoring 28 or more points in five of those games and grabbing 12 or more rebounds in seven of those games. Without Ben Simmons and no certainties about what the future holds for the roster as currently constructed, the Sixers organization has to have some tough and honest conversations about what to do in order to not waste the prime years of Joel Embiid's career.
On Tuesday, Bally Sports NBA Insider Brandon "Scoop B" Robinson joined GameNight with Josh Hennig and was asked about the state of the Sixers just several days before the deadline passes for all NBA players to be available for trades:
"You look around the (NBA and) many folks say in order to adequately win anything you need a three-headed juggernaut, a 'Big Three' if you will - You look at this past NBA Finals with the (Milwaukee) Bucks with Khris Middletown as well as Giannis (Antentekoupo) and former Sixer Jrue Holiday were that 'Big Three'. But with the (Philadelphia) Sixers they had a dynamic trio in Tobias (Harris), (Joel) Embiid, and (Ben) Simmons; You look at Embiid in and out (of the lineup), Tobias dealing with COVID-19, and Ben Simmons not playing at all, it's a miracle that they are 13-11 and seventh place in the Eastern Conference....Truly the Sixers are a mess and they went from a Contender in a space with the Bucks and Nets, (now) they're a team trying to make it into the playoffs so it's a bit disconcerting."
For some people, the word "disconcerting" may be a strong word, but I think it's some tough love for an organization that cannot afford to sit on their hands. The 76ers did not hire Daryl Morey to lead the front office and Doc Rivers to lead the team on the court to just make the playoffs each year. This organization hired these high profile men to get the 76ers to the next level, so they can get past the second round of the NBA Playoffs and reach the first NBA Finals for Philadelphia since Allen Iverson was the league MVP. No one disagrees that Ben Simmons is the key trade piece to restructure the roster in a way to make this team a better fit to win around the team's superstar Joel Embiid.
On GameNight with Josh Hennig on 973 ESPN, NBA Insider Brandon "Scoop B" Robinson gave us some clarity on what is going on with the Ben Simmons-Damian Lillard rumors and where both organizations stand at this time:
"If you go back to my reporting in 2019 where I talked about Ben Simmons and him not wanting to be in Philadelphia and him being afraid of the backlash that he would get had he voiced it a certain way...and this is my opinion, look at the end result with Ben Simmons, it's about how you go about it (that matters) - As it relates to (Damian) Lillard, I think he is saying the right things; To me, Philadelphia always did make sense, (nobody) forced me to say that, it just has to be the right fit. I've always felt that the Ben Simmons-Damian Lillard (trade) logically did make sense but I have also felt as though many people in Portland maybe felt giving up Simmons for Lillard was not a fair exchange and that maybe the (CJ) McCollum (Trade) piece was more to Portland's liking and I don't think (Philadelphia) and Portland saw eye-to-eye on that....I say all of that to say that we are kind of in this logjam and I think a lot of things will start to make sense in the next couple of weeks."
The Trail Blazers have the most difficult decision to make of the two teams because Damian Lillard has gone on record multiple times saying he wants to stay in Portland but in order for him to stay they have to sign him to another Super-Max Extension. That next contract extension would prospectively pay Lillard around 50 million dollars during his age 35-year-old season. If Portland cannot put a better roster around their superstar, what is the point in giving him another Super Max contract if the team cannot get back to the Western Conference Finals like they did in the 2019 NBA Playoffs? Of course, they have to make these decisions after firing their General Manager Neil Olshey who held that position for over a decade.
Now Portland is not the only team that has been attached in reports and rumors having an interest in Ben Simmons. Don't forget all summer long when we heard about the Minnesota Timberwolves, an organization that fired their General Manager less than a month before the start of the NBA season. Other teams have been mentioned in different reports and rumors such as the Sacramento Kings, Cleveland Cavaliers, New Orleans Pelicans, and San Antonio Spurs to just name a few. When I asked which of the numerous teams that have been attached to the Ben Simmons-Sixers reports and speculation has the most pressure to do something soon, NBA Insider Brandon "Scoop B" Robinson zeroed in on one franchise:
"The Minnesota Timberwolves - I think it's a combination of the pending ownership change (and) I also think that it's (about) keeping Karl-Anthony Towns happy. I was with Karl (on) Wednesday of last week and spent a little bit of time with him, he's living his best life, he's enjoying his role in a Timberwolves uniform, he's saying all the right things, he enjoys his role with D'Angelo Russell, and I know that at some point it's going to be sink-or-swim on both sides with Timberwolves and Karl. (Timberwolves) love him...they got so much respect for him (because of) the magnitude of his leadership and his relationship with the (Minnesota) Front Office."
Minnesota is transitioning from long-time owner Glen Taylor to Billionaire Marc Lore and his partner Three-time American League MVP Alex Rodriguez. The speculation is that Lore and Rodriguez want to transform the organization on and off the court into a winning franchise. If Karl-Anthony Towns is going to be the centerpiece of the franchise long-term, then the organization has to show him their commitment to winning and not spare expense, just like Milwaukee did with Giannis Antentekoumpo. The Bucks made big moves and tough decisions but they kept their superstar happy and they won a championship together. Minnesota can do something similar but they have to do it in a way that keeps Towns happy. Part one of that process was bringing his friend D'Angelo Russell to Minnesota, but part two may be more complicated especially if they want to make a serious run at acquiring Ben Simmons. If they are unwilling to give up a player like Anthony Edwards in a trade with Philadelphia, then Minnesota must get other teams involved just like the Houston Rockets did last year in the move that sent James Harden to the Brooklyn Nets.
The countdown is on to December 15th, then we will find out which teams are really serious about winning this season and which teams are trying to "fake it until they make it". Organizations like the Timberwolves, the Kings, and the Blazers all have experienced major turnover at key positions so they are unpredictable. What is predictable is the man running the 76ers Front Office: Daryl Morey has a history of being aggressive and fearless, he will do whatever it takes to put his team in a position to win. Morey will make moves between December 15th and the NBA Trade Deadline on February 10th and I fully expect Ben Simmons to be a centerpiece of those trade talks.
Top 10 Winningest Sixers Head Coaches
Here is a look at the Sixers coaches with the most wins in franchise history.
More From 920 ESPN New Jersey