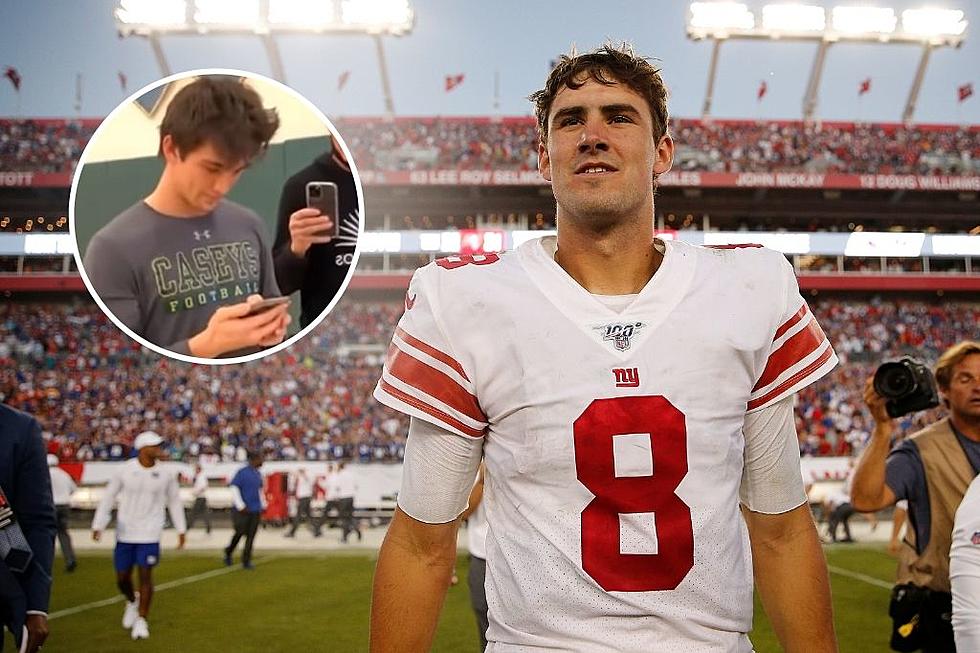 New York Giants' QB Gives Gift of a Lifetime to Grieving Teen
Getty Images / Instagram - playfootball
In November of 2021, Alex Brown lost his mom. She passed away from breast cancer.
No matter your age, anyone would be devastated by this. Brown, still a high school student in New Jersey, was no exception. Somehow, some way, Brown, a quarterback for his high school team in New Jersey, took the field the next day, and had the game of his life.
The story is remarkable enough on its own. Then, New York Giants' quarterback Daniel Jones entered the picture, and in a story told by The New York Post, presented the young Alex Brown with a gift football fans can only dream about.
---
Giants' Jones Gives High School QB Surprise of a Lifetime
How good was Alex Brown in the game one day after the passing of his mother? Well, how about six passing touchdowns and two rushing touchdowns. Is that good?
Jones, who wears the total number of touchdowns Brown recorded as his jersey number, caught wind of the moving story, and decided to present the young man with a gift of his own.
All of a sudden, Brown's phone began to ring. It was Jones, calling on FaceTime.
With a smile a mile wide, Jones presented Brown with three tickets to Super Bowl 56 in Los Angeles. As the video shows, Brown's friends mobbed him on the basketball court at their high school, adding pomp and circumstance to what was an already moving moment.
And that, right there, is the beauty of sports.
Yes, sports as a concept can be frustrating. Your favorite team wins, they lose; they make you suffer through long, cold nights only to rip your heart clean out of your chest, Indiana Jones-style.
As a fan, you follow blindly. As a parent, you root for, you scream out against, and you try to make the best of the situation, no matter how much playing time your kid doesn't get. Sports bring the highest of highs, and the lowest of lows, to every person who's unlucky enough to be involved with them.
No matter what, though, sports bring people together. Sports bring entire regions together during the hardest of times. Sports raise money, raise awareness, and if nothing else, raise the spirits of millions.
What Daniel Jones did for Alex Brown, and what Alex Brown did in honor of his mother, is truly remarkable.
Ten Moving Photos from New York's 9/11 Subway Series Game
It was a day of remembrance in New York on Saturday night, and two teams that gave the nation a reason to cheer in 2001 squared off at Citi Field two decades later.
Capital Region Sports Fan Favorites Captured by Troy Artist Ian Anderson
The Ten Best Capital Region Sports Moments of 2021
In a year full of plenty of highs, and at least an equal amount of lows, here are the top ten sports moments in the Capital Region from 2021.
More From 920 ESPN New Jersey