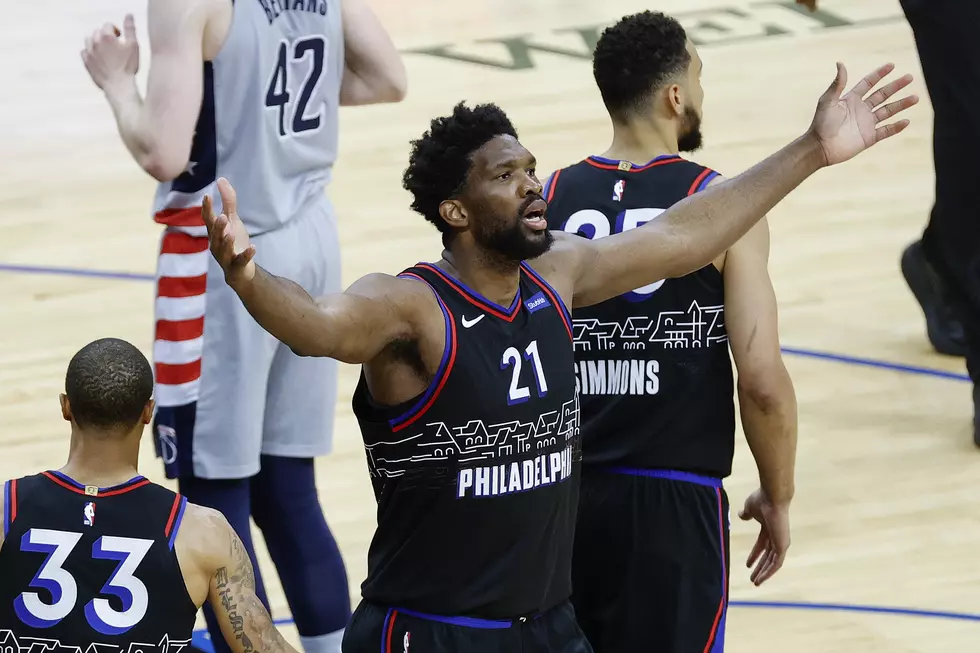 Observations From Sixers' Narrow Game 1 Win
Tim Nwachukwu, Getty Images
Early on, the Sixers looked like a team that hadn't played a game in a week. Before the final buzzer, they looked a little more like the team that earned the No. 1 seed.
The Sixers overcame a slim halftime deficit to beat the Wizards, 125-118, in Game 1 of the first round of the Eastern Conference playoffs at the Wells Fargo Center Sunday.
Though the arena was at just 50 percent capacity, the energy was palpable. The building was electric from the beginning and really went up a few notches as the Sixers grew their lead in the second half.
Here are observations from the Sixers' Game 1 win.
Tobias Harris Leads Sixers Big 3
Tobias Harris got whatever the hell he wanted in the first half. He abused second-year player Rui Hachimura, using his size and strength to get to his spots on the floor.
Whether it was in the midrange, post-ups or drives, Harris had little trouble carving up the Wizards' defense. At one point in the second quarter, Harris scored 16 straight points for the Sixers. He scored a game-high 28 first-half points – and the Sixers needed every one of them with Joel Embiid in foul trouble.
"Honestly, when [Embiid got in foul trouble], I kind of looked at it the way I've been looking at it all year," Harris said. "When Joel went down with injury, what I needed to do for our team to win games at that point. He goes out with three fouls and it was just the same mentality of, 'Alright, we got to get this thing rolling.'"
The MVP finalist Embiid looked locked in at the start. Unfortunately, he was plagued by those early fouls. All three of Embiid's fouls in the first half were on the questionable side – especially the third, on a play where it looked like Embiid was straight up and Alex Len tripped over his own two feet.
Embiid did manage to get all three Wizards big men in foul trouble in just over 20 minutes of action. Len and Daniel Gafford each had two fouls while Robin Lopez had three.
Ben Simmons was strong on both ends throughout. He led the Sixers' offense and took care of the basketball. Bradley Beal got his at times – which is bound to happen because Beal is an outstanding scorer – but Simmons did well to keep him from taking the game over.
As Beal got going in the third, Simmons played him harder. He forced a turnover on Beal that led to a transition three from Seth Curry that pushed the Sixers' lead to seven, capping off a nice run. Curry coming alive in the third (11 of his 15 points) gave the Sixers a huge spark.
Sunday's game was a strong start for the Sixers' Big Three. Harris (37 points) may silence the critics of his postseason play. Embiid (30 points) handled double teams well and managed to make a sizeable impact despite his foul trouble, especially in closing the game.
While Simmons didn't score much, he literally did everything else (15 assists, 15 rebounds, two turnovers). His 15 assists were the second-most in a playoff game in Sixers history.
"I thought he was special tonight," Doc Rivers said of Simmons. "Whoever he guarded struggled scoring. He created so many points for us tonight -- off the glass, off transition to three, creating switches that they didn't want to have.
"He's a treasure. He's something you don't see a lot of in this league. He has such a skill set that's so different. A lot of people can't make what of him, all I see is greatness in him."
The blemish -- Simmons went 0 of 6 from the line.
The Sixers' formula for playoff success was on display, albeit briefly. Embiid and Harris scoring, Simmons creating and playing elite defense, and Curry and Danny Green making shots. It's worked so far.
Transition D an Issue But Strong Late
The biggest intrigue regarding matchups coming in was who would be guarding All-Star guards Bradley Beal and Russell Westbrook. Ben Simmons started on Beal while Green checked Westbrook. Neither guard hurt the Sixers early.
Former Process Sixer Ish Smith was arguably Washington's best player in the first half. While the scoring was well distributed by the Wizards, Smith sparked Washington's transition offense. The Sixers' troubles with transition have been well documented and reared their ugly head in Game 1. The Wizards held a 14-6 advantage in fast-break points at halftime.
"I thought defensively we weren't good, especially me," Embiid said. "I got in foul trouble and I wasn't playing at my full potential defensively. ... I just got to do a better job, and as a team, we've got to do a better job. They had too many easy baskets, especially in transition. We've got to fix that."
While Beal put on a little bit of a show in the third (17 of his 33 points), the Sixers weathered the storm and did much better in transition. Their defense down the stretch is what earned them this win.
The Playoff Rotation
There was a lot of intrigue about how many players Doc Rivers would use in his rotation. He used 11 in this one, but the answer going forward might be 10. The good news for Sixers fans is we saw very little of the all-bench lineups Rivers used throughout the season. Harris led a lineup featuring four reserves – and it didn't go particularly well. An all-bench lineup started the fourth and fared OK.
George Hill (11 points) earned the most minutes – aside from Dwight Howard, who subbed for the foul-plagued Embiid. Hill was quietly very good in his 18 minutes and was a defensive sub to close the game.
"He has a great voice," Rivers said of Hill. "He settles the second group down. They had one stretch where they were struggling a little bit and I thought George kind of took them over. You could see it out on the floor. It's great to be able to put him on different guys defensively. You're not going to fool him. He's going to be solid."
Rookie Tyrese Maxey saw action at the end of the first half after Seth Curry was hit in the stomach and forced to come out. Maxey broke Smith's ankles and got an and-one on a drive. That was enough to earn Maxey second-half minutes.
The bench seemed like it could be a concern coming in and this game did little to quell those concerns. Everyone except Furkan Korkmaz – who missed all three of his attempts from three and did not play in the second half – was a minus in the first half.
Led by the defense of Matisse Thybulle and Hill, the bench did do a better job preserving the lead the starters provided in the third. The intrigue of who will play beyond Hill, Howard and Thybulle remains.
Sixers First-Round Picks Since 2000
More From 920 ESPN New Jersey