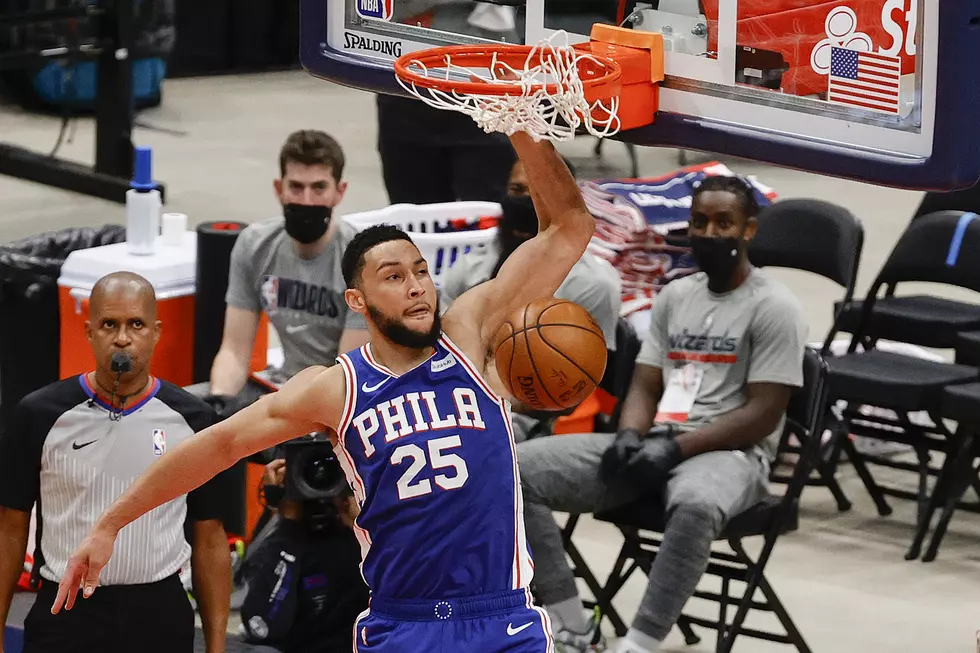 What is Ben Simmons Trade Value?
Tim Nwachukwu, Getty Images
The Sixers are rumored to have already turned down deals involving Ben Simmons. One such offer came from the Indiana Pacers, involving guard Malcolm Brogdon and a first-round pick for the Sixers polarizing point guard.
But just because the Sixers rejected that advance doesn't mean they aren't open to moving their three-time All-Star.  However, its going to take an All-Star caliber player in return to get Daryl Morey to pull the trigger on a deal involving the 24-year old.
And many around the NBA expect Morey to get that type of offer, with Simmons value not as low as people might think, at least according to longtime NBA writer Chris Mannix of Sports Illustrated, who appeared on the Bill Simmons podcast on The Ringer.
"I hear from executives all the time that are loving this 'Ben Simmons trade value has cratered' conversation because they hope that Philadelphia believes that. I think his trade value is actually higher than what's being publicly portrayed. But you're going to continue to hear a lot of the negativity around Ben Simmons.

"In other words, I think people value him pretty high across the league because I do think there's a belief that someone's going to figure the shooting thing out."
It appears one name that Morey would be willing to move Simmons for is Portland star Dame Lillard.
So is Lillard ready to leave the only city he has ever represented since entering the league in 2012?  The 30-year old Lillard was reportedly not happy with the hiring of new head coach Chauncey Billups, leading to speculation that he might be ready for a fresh start.
Lillard would be a great fit, playing with Sixers center Joel Embiid, giving the team a nearly unstoppable pick-and-roll duo. Lillard averaged 28.8 points and 7.5 assists for the Trail Blazers during the 2020-21 season, connecting on 39% of this 3-point shots.
Others teams have interest as well. The T-Wolves reportedly want Simmons "badly," and other teams will likely be lining up to make an offer for the three-time All-Star, defensive player of the year runner-up, first-team all NBA defensive player.
Cape May, NJ: 15 wonderful places to visit
The Tastiest Jersey Shore Food Trucks You Should Try This Fall
More From 920 ESPN New Jersey