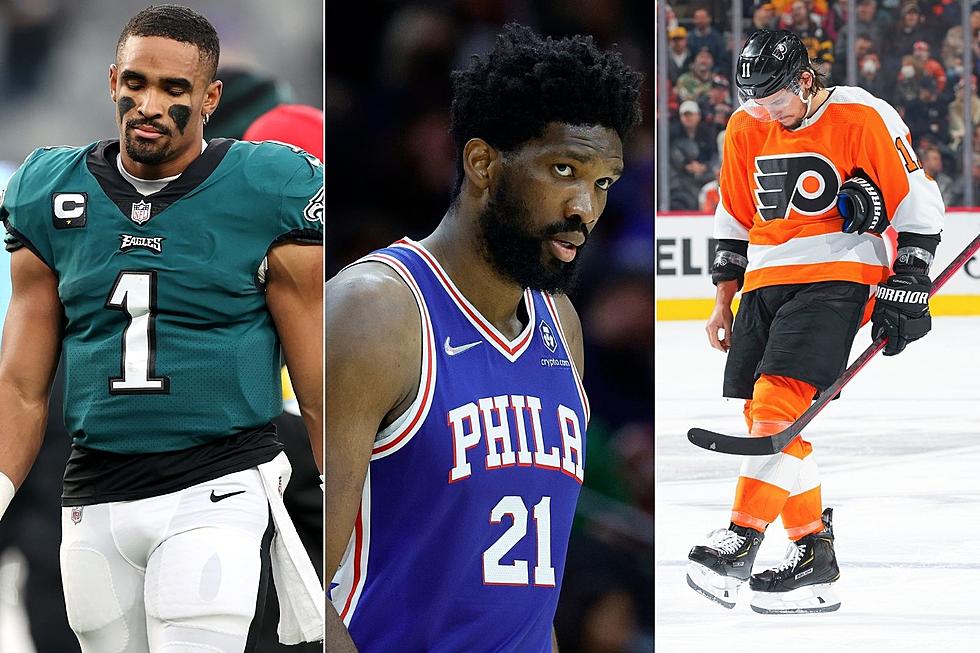 Underachieving is the word to describe Philly Sports right now
-Jalen Hurts (Photo by Elsa/Getty Images) -Joel Embiid (Photo by Tim Nwachukwu/Getty Images) -Travis Konecny: (Photo by Mitchell Leff/Getty Images)
Last Sunday the Philadelphia Eagles wasted a golden opportunity to increase their chances of earning a spot in the NFL Playoffs.  The game was there for the taking but a bad performance by Quarterback Jalen Hurts combined with dropped passes by Jalen Reagor and Greg Ward along with Hurts missing wide-open receivers plus a bad game plan by the offensive coaching staff all contributed to the defeat suffered to the New York Giants.  The Birds head back to Metlife Stadium to take on the New York Jets this Sunday afternoon; Let's hope the Eagles don't have a repeat performance of last Sunday's loss.
Speaking of underachieving, the Philadelphia Flyers look hideous!!  Losers of their last seven games, the Flyers would be under enormous pressure if the Eagles didn't dominate the Headlines in the city of Philadelphia.  The Sixers aren't much better with a record of 11-11 overall this NBA season.  We really don't know exactly where this team is because they can't seem consistently to have all their starters on the court at the same time.  The Phillies made a couple of moves but will it matter as Major League Baseball players have been locked out until further notice.  How long will baseball be on hiatus?  All these topics and more will be discussed in The Locker Room with Billy Schweim this weekend!
On Saturday's show, Mike Carlin will join me in the studio as we talk Eagles Football, College Football and more.  The Sportsbook Consigliere Dave Sharapan will check in from Las Vegas with his picks for this weekend's big games.  Then we will hear from former Sixers General manager and former Senior Vice President of the Orlando Magic Pat Williams.  We will ask Pat about his career in the NBA and the state of the league today.
On Sunday's show, Pete Thompson joins me in the studio for our Eagles pregame show.  We will hear from 973ESPN.com Eagles Writer and Fox 29 News Sports Anchor Scott Grayson with the latest Eagles news and notes before the big game. Then we will hear from The Fantasy Football Guru Brian Hartley who checks in with his picks for Week 12 in the NFL.
All that and more in The Locker Room with Billy Schweim Saturdays and Sundays from 10am to Noon on 97.3 ESPN Radio.
Atlantic County Bars to watch Football this season (alphabetical order)
More From 920 ESPN New Jersey